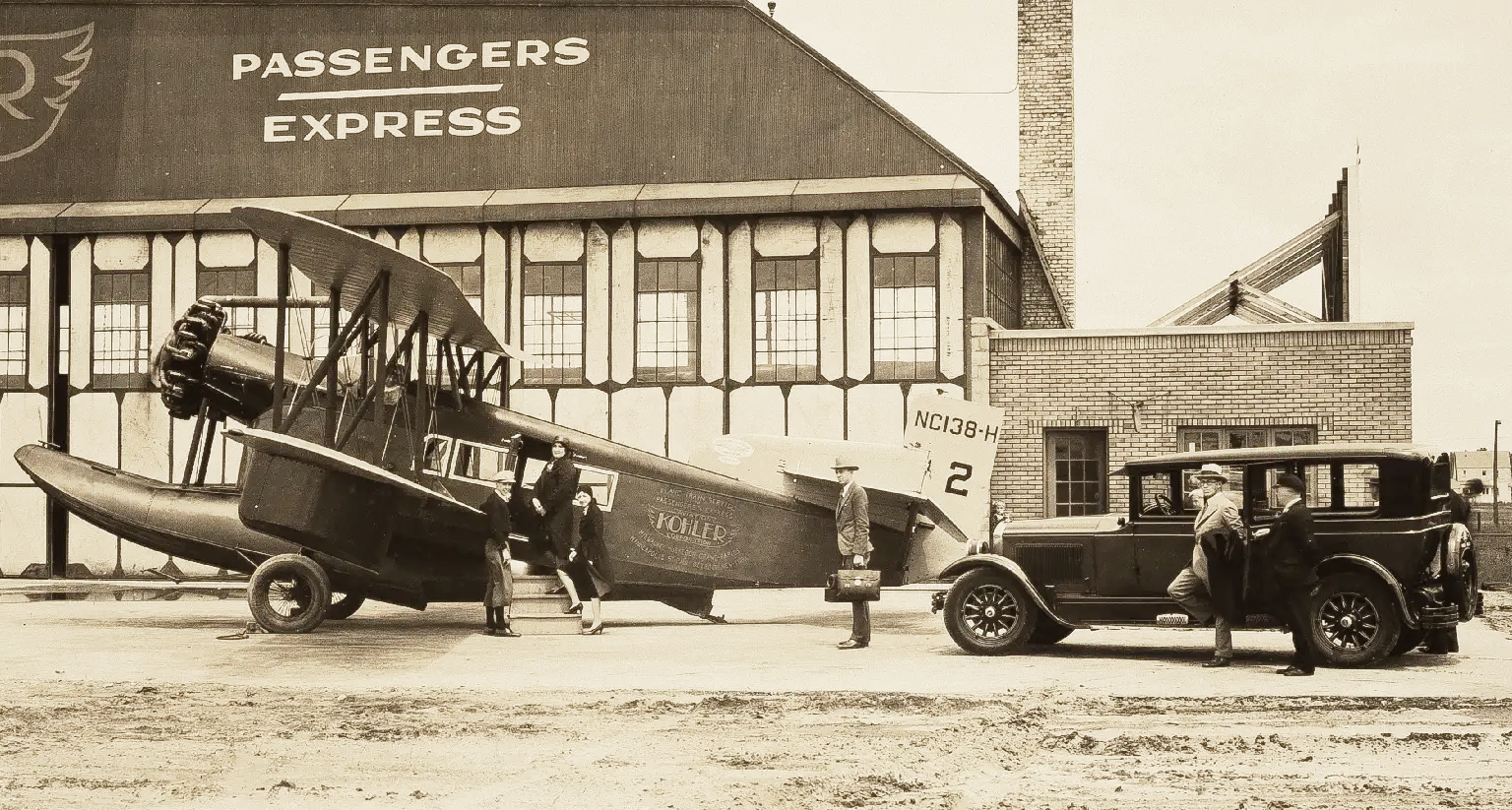 Kohler Aviation Corp - Kohler promotional album
Frank and John B. Kohler of Grand Rapids, Michigan, envisioning an aerial "Bridge across Lake Michigan" founded Kohler Aviation Corporation (KAC) on August 30, 1929. Passenger and freight service between Milwaukee and Grand Rapids began the next day. Travel time between the cities (90 miles straight-line distance) was reduced from 14 hours by rail to 1 hour and 10 minutes by air. One-way fare was $18; a round-trip ticket cost $30.
The airline owned five Loening C-2C Air Yacht amphibian aircraft. The Air Yacht carried six passengers in an enclosed cabin while the pilot flew from an open (two-seat) cockpit. Powered by the Wright Cyclone (525-hp) the aircraft had a gross weight of 6,250 pounds, a range of 500 miles, and cruised at 102 MPH. Loening built 23 examples of this model.
Just three months later, during November 1929, KAC sold their routes to Northwest Airways. Kohler, under contract with Northwest, continued to provide the scheduled air service.
The May 16, 1930, edition of the Green Bay Press-Gazette contained an article detailing how Sturgeon Bay resident and Door County Chamber of Commerce President Karl Reynolds travelled to New York City in just under 24-hours. Reynolds drove his car from Sturgeon Bay to Milwaukee's Maitland Field. He then climbed aboard Kohler's Loening C-2C aircraft for their 10:00 a.m. departure and, after a short stop in Muskegon to drop several passengers, the flight continued to Grand Rapids, Michigan, arriving at 11:40. Mr. Reynolds then made his connections with the Michigan Central Flyer for an overnight rail trip to New York City. Reynolds arrived at the Grand Central Terminal in New York City at 7:40 EST. Including the time change elapsed time for the entire trip was 23 hours and 40 minutes. A real-life Planes, Trains and Automobiles story.
Kohler was awarded air mail route CAM 32, as a Northwest Airways subcontractor, between Milwaukee and Detroit on March 1, 1933. The first air mail was flown the next day, departing Milwaukee at 7:30 a.m., with an intermediate stop at Muskegon. Scheduled arrival time in Detroit was 11:25 a.m. The first schedule included four daily flights—two in each direction.
On Saturday, July 12, 1930, an air-rail terminal opened adjacent to Maitland Field. The Chicago & Northwestern Railway and Kohler provided joint air-rail service Chicago and Milwaukee with Muskegon and Grand Rapids.
President Franklin Roosevelt cancelled all air mail routes on February 19, 1934, and turned the air mail over to the military. Tragic results and ballooning costs caused the government to reconsider. On May 8, 1934, President Roosevelt and Postmaster General James Farley reinstituted private carriage of the mail. But it was too late for Kohler Aviation Corporation.
Their bid for the new Detroit – Milwaukee route was denied by Postmaster Farley. Kohler Aviation had been used, some would say "dupped", by former Transcontinental and Western Airways President Richard Robbins as a test case. Robbins, who was forced out of the new TWA for his involvement in the Spoils Conference of 1930, convinced Kohler they would benefit from his involvement. Robbins was named Vice-President of Kohler Aviation. It was then that KAC's application for their own contract was denied by the Post Office. Robbins then resigned from Kohler.
Kohler Aviation declared bankruptcy in May 1934, and their assets were acquired by Pennsylvania Airlines in June 1934. Pennsylvania Airlines would be renamed Capitol Airlines in 1948 and later merged with United Airlines. There was no relationship between Kohler Aviation Corporation and the Kohler Corporation of Kohler, Wisconsin.