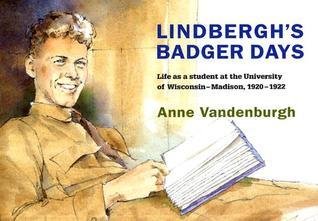 Lindbergh's Badger Days book cover
While the daring flight and later celebrity years of Charles Lindbergh are familiar to most Americans, his years spent at UW-Madison are lessor known. Anne Vandenburgh's book Lindbergh's Badger Days describes the three visits of Lindbergh to Madison, focusing on his longest stay from 1920-1922. Lindbergh enrolled as an engineering student at UW-Madison in September 1920. Vandenburgh recounts stories of Lindbergh's early interest in tinkering with machines and testing their and his performance limits. His exploits from a plan to see how far into Lake Mendota he could jump his bike, to skipping class to work on a motorized wind boat, are told through quotes from Lindbergh and his friends.
The university didn't appreciate these feats of man and machine that left little time for studying, and Lindbergh was put on academic probation. In 1922 he decided that college was not for him, and he left for flight lessons at the Nebraska Aircraft Corporation. While he did not excel academically at college, Lindbergh's career in aeronautics took off in Madison. Vandenburgh describes the friendship of Lindbergh and Delos Dudley, whose interest in aeronautics sparked and supported Lindbergh's. This book also includes descriptions of campus events at the time, many of which Lindbergh thought "childish", photos and maps of the campus at the time and even a list of his required courses for each semester. These materials and stories provide a glimpse of campus life in Madison in the 1920s for this young student with a less than enthusiastic attitude towards scholarship.
Lindbergh made two other short stops at his alma mater. In August of 1927, after completing his Trans-Atlantic flight, Lindbergh returned to Madison bursting with pride to welcome its one-time resident. The "Lindy Day Events", carefully chronicled by Anne Vandenburgh, showcased Lindy circling over Camp Randall in the Spriit of St. Louis. The nine photos of Lindburgh and the Spirit of St. Louis in Madison provided in this chapter will delight any aviation or Wisconsin history fan.
Lindbergh's final stop in Madison was in June 1928, to receive an honorary Doctor of Laws degree. After the ceremony, the drop-out gave plane rides to officials ranging from former University President Edward Birge to Governor Fred Zimmerman.
Lindbergh's Badger Days provides a glimpse into the life of a young man before and after he was launched into the public eye and aviation history.
This article originally appeared in the WAHF newsletter, Forward in Flight, Fall 2004. The book is currently available through Amazon.