A year before WAHF Member/Supporter Steve Benesh retired from a corporate sales position he was ready to get back into flying. He did it in a big way, he bought an airplane, a 1958 Tri-Pacer. Since he wasn't current at the time, he went to the Wittman Regional Airport (KOSH) office and asked for the name of a qualified flight instructor. The airport secretary gave him the name of [WAHF Board Member] John Dorcey. Steve asked John if he would go to Clintonville Municipal Airport (KCLI) with him to look at the plane. After John looked it over and told Steve, "Yeah, it's a nice plane," they flew it back to Oshkosh. That was on August 30, 2015. Oshkosh has been its home since then.
Steve chuckles as he recalls that day. "John told me, 'Go preflight the airplane and I'll look at the paperwork,' and I laughed because I hadn't pre-flighted an airplane in some 27 years," he recalls. But then it was John's turn to laugh. Steve added, "I pulled out my paper chart, just like I used to do, and John chuckled and said, 'Very few people use paper charts anymore.' Now of course, I use Foreflight, and bought an iPad to go with it."
Since Steve had a new airplane he wanted to fly it—a lot! He had heard about the Fly Wisconsin Airport Passport program and thought it was good motivation to see novel places and different airports. And that's exactly what the Wisconsin DOT Bureau of Aeronautics and the Wisconsin Airport Management Association (WAMA) aims for in its program. It encourages safety and education by encouraging recreational flights to all of Wisconsin's 126 public use airports. Pilots receive an empty passport that can be filled in with stamps from each airport they visit. Visit forty-two airports and receive a t-shirt, visit another forty-two and receive a flight bag, visit the remainder to receive the t-shirt, flight bag, and a leather jacket.
Fast forward several years, and Steve has done just that. On September 21, 2023, he was recognized at the WAMA-sponsored Wisconsin Aviation Conference for completing the program. He took his first stamp-seeking flight to five airports in one day: Fond du Lac, New Holstein, Sheboygan, Manitowoc, and Appleton, in March of 2018. In November 2022 he got the last stamp. He may have gotten it sooner, but there were several bumps along the way.
"I had an 18-month delay because I couldn't get into Volk Field, because of COVID and when the Afghan refugees were provided with safe haven there," he explained. "Not a single stamp for 18 months. And Eau Claire Lakes (5G4) in Drummond, Wisconsin, I couldn't get into that one - into those two - for the longest time," he lamented.
But overall, Steve says, the weather was his biggest challenge. In his Tri-Pacer, he flies to his personal minimums, his comfort level, especially when it comes to crosswinds. At Camp Lake Airport (49C), with its north/south 2260' x 75' turf runway, he said, "I just didn't like the approach, the crosswinds were bad, beyond my comfort level, so I went back another time," he explained. "You must think about your capabilities. Some days when it's especially turbulent or low clouds, it's better to wait. It wears you out, it's better to come back another day."
When everything finally came together, mild weather, favorable winds, the airports being open, he pushed on. Most of his adventures were solo flights, but some days, he wanted some company. On one such day, he called John again. Steve and John were flying in the Prentice and Park Falls area. "We ran into some light rain that had not been in the forecast," Steve said. "As more of a fair-weather flier, I wasn't sure how to react; I'm so glad he was along that day," he said. "I learned about flying in a little rain that day."
As a self-described geography nut, Steve loved seeing the change in seasons. "The change in scenery from the north to south is stunning, and such an amazing contrast from woods to farmland," he said. He described how at times the north would see changing fall colors while southern Wisconsin was still green. "Sometimes it was like winter up north, and fall-like down south," he said. He noted areas, such as Randolph, Wisconsin, where he could plainly see the direction the ancient glaciers went through.
He vividly recalls a stunning scene when leaving Southeast Wisconsin from Racine. He landed at about 4:00 on a November day, the sun was setting. He drank some coffee, talked with some folks, and the next thing he knew, it was 5:15. He talked with Milwaukee approach and was vectored right over the City of Milwaukee at 4500 or 6500 feet. "ATC says, 'You'll see an airliner coming toward you, but he knows you're there.' I'm climbing, looking west, and there's a sliver of gold, to red, to night, to stars, then I look down, Milwaukee and all the colorful city lights, to the right it's black, Lake Michigan. There's an airliner beneath me, I see the plane, its lights, and it's such an experience—the bright city lights, and stars. The air is smooth as silk, an airliner is flying beneath me on approach into Milwaukee. I pinch myself and say, 'I can't believe I get to do this.'"
It was one of many incredible experiences that really sticks out in his mind. Most of his flights were in daylight. In the Minocqua area, he recalls flying over a large swampy area with only trees, no roads, no railroads, no powerlines. "Just total wilderness," he said. "It's a reality check, with no airports nearby. I have confidence in my plane, but if I had to go down…"
Steve adored the community aspect of flying to all these airports, meeting airport bums and airport dogs. "At Ashland, I saw two big, black Newfoundland dogs," he recalls. "Those big dogs would plop down in the doorway and block the doorway," he laughed. He met nice people everywhere he went. He recalls having a good talk with the manager at the John F Kennedy Memorial Airport in Ashland (ASX). He attended safety seminars and IMC Club meetings, required by the program. He toured the Kelch Aviation Museum, the Aviation Heritage Center of Wisconsin in Sheboygan, and the Wisconsin Air National Guard Museum at Volk Field. "I would have loved to spend more time at each of those," he said.
And now that his goal is complete he often tells people to "go for it" when talking about the passport program. He proudly wears the leather jacket he received and carries his flight gear in his new bag. As part of the recognition he also received two Fly Wisconsin embroidered patches, one of which adorns the jacket, and the other the bag. He had a tailor embroider his name on his jacket. It's a nice achievement, especially since he didn't know if he would succeed at the beginning. When he got to the first level at 42 airports visited, he just kept going. At 84 airports he thought he might be done. But with all the time and money invested he had to stay at it. He likes telling people to just keep going! Besides, he says, it's a beautiful way to see Wisconsin. That's all the inspiration we need.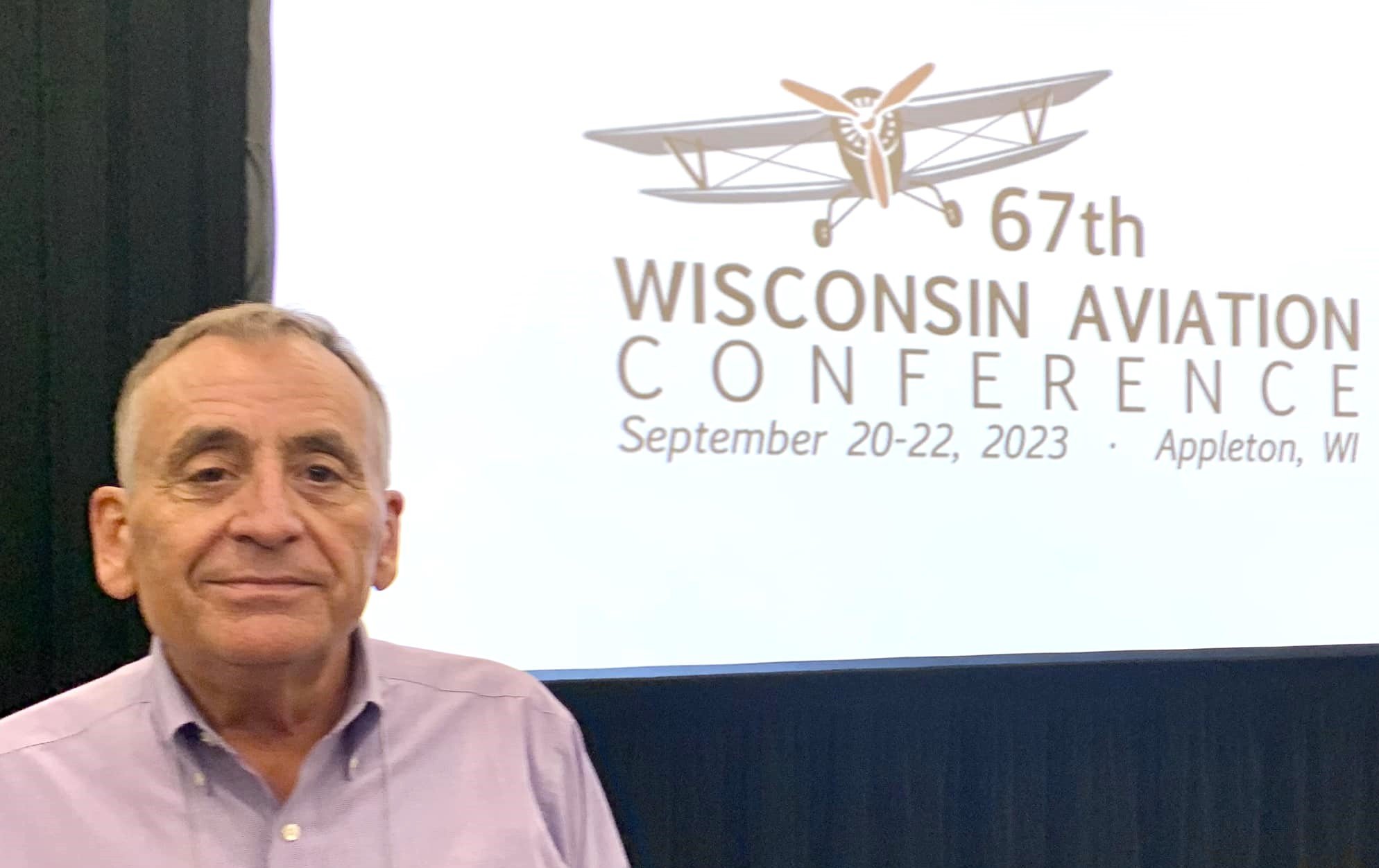 Steve Benesh award ceremony - WAHF photo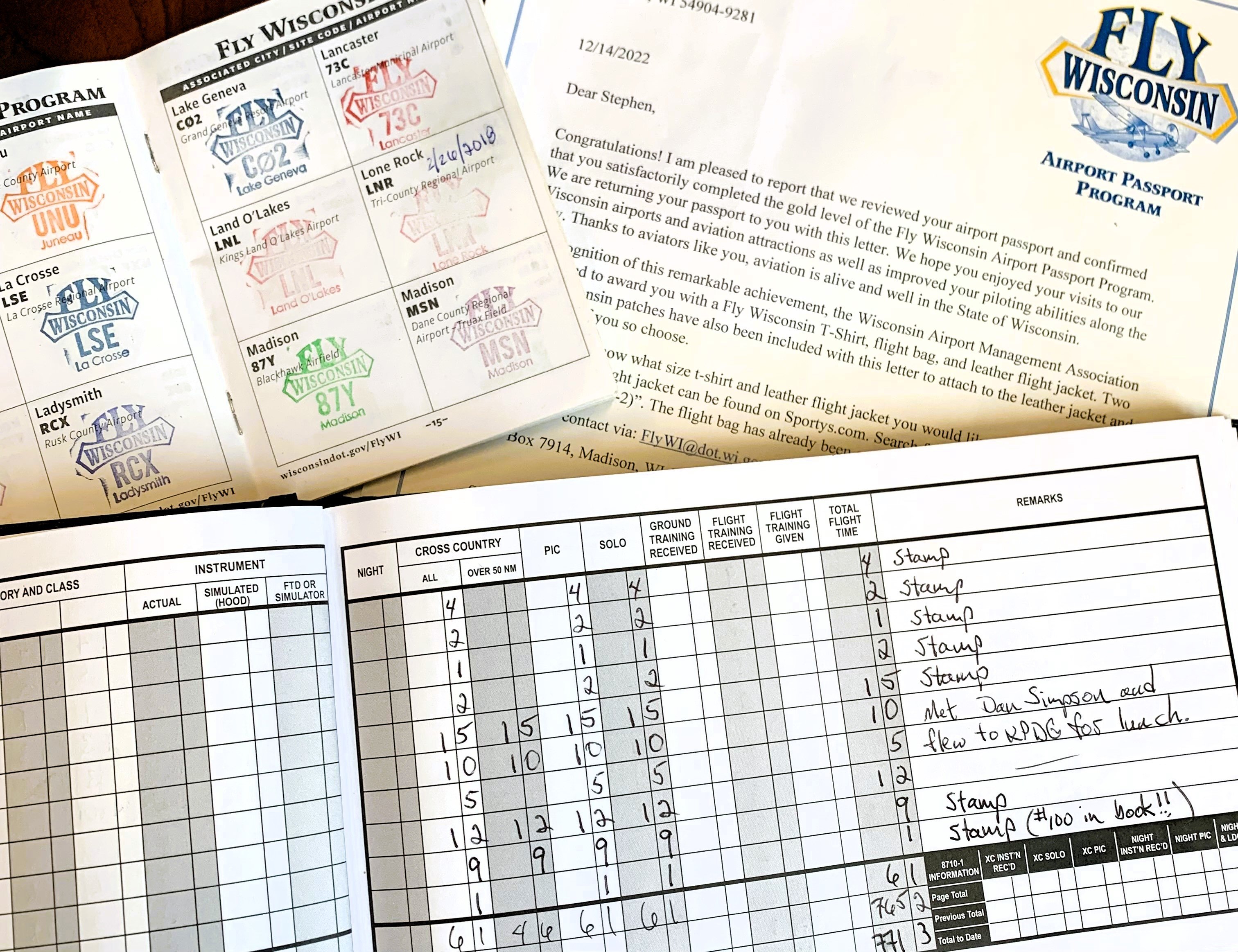 Steve's flights are well documented!