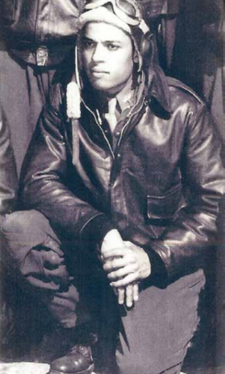 2nd Lt Alfred Gorham
Alfred M. Gorham
Inducted: 2019

Alfred Gorham was born in South Dakota and, as a child, moved with his family to Waukesha Wisconsin. Alfred graduated near the top of his Waukesha High School Class of 1939. He then entered Carroll College. When the United States entered the war, Alfred enlisted in the Army Air Corps. He had as his goal to become a Tuskegee Airman. There were well over a thousand applicants for fewer than 100 positions. Gorham made the cut and was selected to become a fighter pilot.
Alfred became a 2nd Lieutenant in the 301st Fighter Squadron, where he flew the famous "Red Tail" North American P-51 "Mustangs". On February 25, 1944, while escorting Consolidated B-24 "Liberator" bombers to Budapest, Hungary, he shot down two German Focke-Wulf Fw-190 fighters.
On February 25, 1945, while on a mission his aircraft developed engine problems and he bailed out of his stricken craft over Munich, Germany. Gorham was immediately captured by German troops and finished the war as a POW.
Returning home to Waukesha, Alfred worked the next 40 years in the chemistry lab of AC Spark Plug in Oak Creek, Wisconsin. He passed away in 2009 and is interred at Arlington National Cemetery. He is Wisconsin's only member of the famed Tuskegee Airmen.