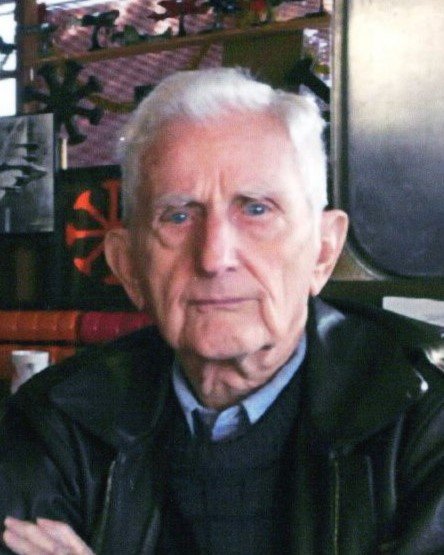 Submitted photo
Arnold Ebneter
Inducted: 2013

On July 25, 2010, Arnold Ebneter flew the airplane he designed and built himself nonstop from Everett, Washington, to Fredericksburg, Virginia. He set a record of 2,327.85 miles for a Class C-1a landplane with a takeoff weight of 300 to 500 kg, a new world mark for the longest nonstop flight in a homebuilt aircraft.
Born on a farm in Mount Horeb, Wisconsin, his preparation for that record flight began in 1936 when a barnstormer took seven-year-old Arnold up for his first flight. He started flight training as a teenager in Portage in 1943, receiving his private pilot certificate in a PT-23 while a senior in high school. While attending classes at the University of Minnesota he earned his commercial and flight instructor certificates, plus the A&P ratings.
Arnold entered USAF pilot training in 1953, graduating at the head of his air cadet class in 1954. He then climbed into the cockpits of F-86 Saber and F-100 Super Saber jets. His squadron was among the first to develop in-flight refueling tactics, linking their F-100s to KB-50 tankers on 4000 mile trans-Atlantic flights.
The Air Force sent him to Texas A&M to earn a degree in aeronautical engineering and there, as part of his degree requirement, he conceived and designed the record breaking E-1 (Ebneter-One).
In between, Ebneter served a four-month tour as squadron maintenance officer in Vietnam, and also flew 25 combat missions. He came home to earn a master's degree at the Air Force Institute of Technology, then returned to Vietnam to fly 300 combat missions in the F-100, logging a total of 427 combat hours.
After leaving the Air Force Arnold signed on with Boeing to work on the 767 airliner, while restoring a beat up J-3, piloting a B35 Bonanza, and redesigning the E-1. He started construction in 1995 and rolled the E-1 out of the hangar for its first flight in 2005. After five additional years of fine-tuning and testing, Ebneter took off on his 18.5 hour cross-country flight into the record books.
The Federal Aviation Administration (FAA) has awarded Ebneter its Wright Brothers Master Pilot and Charles Taylor Master Mechanic awards. He is also the recipient of the Federation Aeronautique's prestigious Louis Bleriot Medal for Flight.
Arnold Ebneter has realized the aeronautical engineer's dream of conceiving, designing, and building a successful airplane and the pilot's dream of completing his once-in-a-lifetime flight.