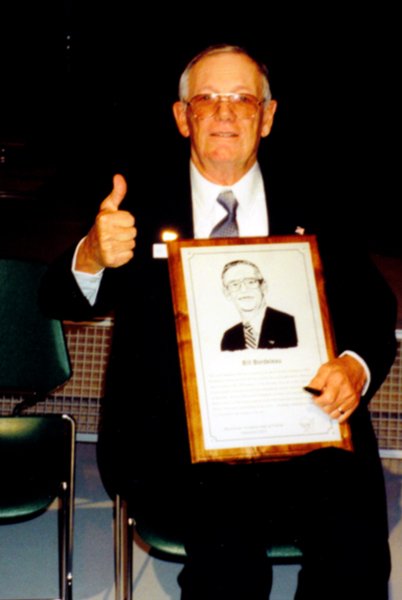 Bill Bordeleau at his 2001 induction ceremony - Jim Martin
Bill Bordeleau
Born: June 9, 1932
Died: January 8, 2017
Inducted: 2001

The most familiar voice in American air show history belongs to Bill Bordeleau. He started as an air show comedian, sky diver and pilot but found his home behind the microphone.
From the first day he announced an air show in Platteville, Wisconsin, in 1969, to his work as the voice of the Experimental Aircraft Association for three decades, the name Bordeleau and air shows have become inseparable.
He has announced thousands of air shows, from the biggest to the smallest, all over the United States. As a leader in technological innovation and a founding member of the International Council of Air Shows in 1969, Bordeleau was instrumental in building the modern air show industry.
Bordeleau was named an honorary U.S. Army Golden Knight in 1979, an honorary crew member of the U.S. Navy Blue Angels in 1985, and an honorary U.S. Air Force Thunderbird in 1992. No one in the history of the air show industry or the military has ever been so recognized by all three U.S. military demonstration teams. 
But memorable is his voice -- teaching, explaining, adding excitement to the drama in the sky.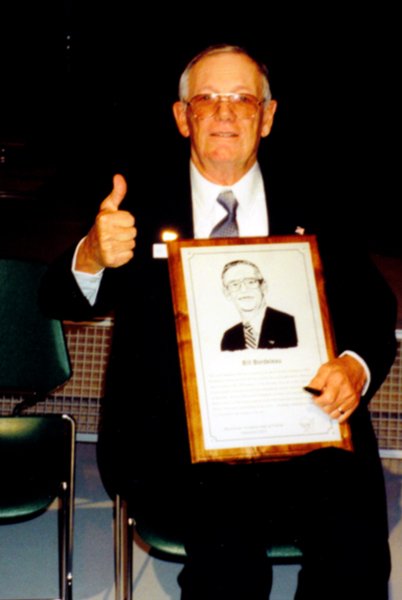 Bill Bordeleau at his 2001 induction ceremony - Jim Martin