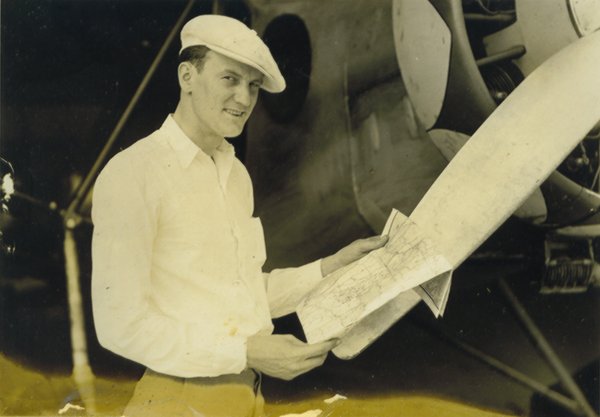 Clyde Lee with chart in front of Stinson - Wittman Regional Airport
Clyde Lee
Born: February 16, 1908
Died: August 25, 1932
Inducted: 2001

For decades, the challenge of trans-Atlantic flight inspired many American aviators. In Wisconsin, that challenge was accepted by Clyde Lee. As an Oshkosh teenager in the early 1920s, Clyde took instruction from his cousin, Roy Larson. He barnstormed with Larson and on his own; wingwalking, parachute jumping, and performing aerobatics in a poky Curtiss Canuck.
In 1929 he acquired a Stinson cabin plane and talked of flying it to Europe. Three years later, talk turned to action as he took off from the Oshkosh airport in pursuit of a cash prize offered by an Oslo newspaper. The prize was to go to the first airplane to fly non-stop from North America to Norway.
Lee and his co-pilot, John Bochkon, left Harbor Grace, Newfoundland, on August 24, 1932. They headed east with just enough gas to top off their fuel tanks, with no radios or modern navigational equipment, and with an airplane and engine that had seen many hours of use. Encountering storms, cold, and fog over the North Atlantic, they disappeared without a trace.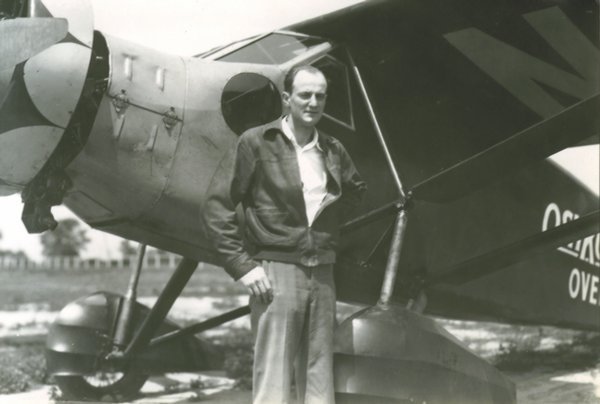 Clyde Lee in front of Stinson - Wittman Regional Airport