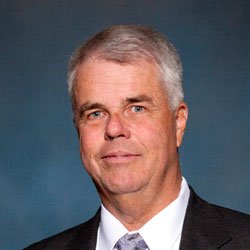 WAHF Inductee - EAA (2012)
Daniel T. Knutson
Inducted: 2021

Dan was born in 1956 and was exposed to aviation from the beginning. In his youth, he biked a mile to the airport, enjoying the activities there more than what other kids his age were doing. He had his first airplane ride when he was 5.
At the age of 10 when his father started restoring airplanes, Dan was assigned the task to help clean aircraft parts. As he grew and matured, he became obsessed with authenticity and spent many hours researching aircraft paint schemes, colors and upholstery installation along with every nut, bolt and screw had to be what the factory used originally.
Dan soloed on Lodi Airport's turf runway in a Piper Cub when he was 16 and became a private pilot at Lodi when he was 18. With learning to fly out of turf strips, Dan developed an early appreciation for vintage, grass root aviation.
Over the years he continued working with virtually every aspect of restoration, attended many workshops and became an expert restorer of aircraft.
All these efforts elevated him to judging aircraft where he is in high demand. In the late 1990s to 2006, Dan was the Chief Judge of all Piper categories for the Sentimental Journey Fly-Ins. Dan was also asked to judge airplanes at EAA AirVenture.
2012 was the 75th Anniversary of the J-3 Cub and that year, Dan's Piper J-3 Cub led 175 Cubs from Hartford to Oshkosh. Dan's Wisconsin Piper Cub was showcased in the Piper Corporation's display as the number one Cub of all those available in the country!
As having been an active member of the Vintage Aircraft Association board, he has been a national leader in aircraft restoration and strong promoter of grass roots aviation.