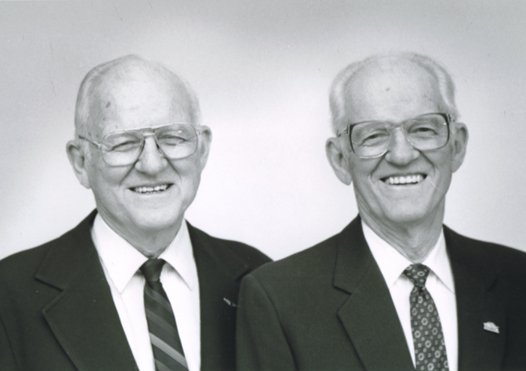 Submitted
Dale E. Crites
Born: January 21, 1907
Inducted: 1989

Dale E. Crites was a central figure in Wisconsin aviation for over 60 years. Dale and his twin brother Dean, began their "future in flight" in 1919, when at the age of 12, they helped another Wisconsin aviation pioneer, Robert Huggins, build a glider in their hometown of Honey Creek.
In the early years of their careers Dean and Dale built and flew a variety of airplanes. They built their first airplane in 1934 from scrap parts purchased from the manufacturer of the Invincible airplane. Later, using Curtiss Pusher parts, purchased from the Curtiss estate, the brothers built another plane and flew it many times before giving it a dignified retirement. Being strong supporters of the Experimental Aircraft Association (EAA) they donated the plane to the EAA museum in 1971.
As a young man Dale devoted much time to aeronautical research. His work on "controlling airflow over lifting surfaces" led to the construction of an experimental slotted wing craft which flew in 1931 and 1932 answering many questions about boundary layer control. During World War II Dale was active as an instructor pilot in the Civilian Pilot Training Program.
Dean was a precision flier as evidenced in 1938 when he astounded an air show crowd by picking up a handkerchief with a wingtip. Dean has the proud distinction of being included in the group of first airmail pilots, back when this was considered a very dangerous occupation. His accomplishments in aviation include the Waukesha Aviation Club's Achievement Trophy and being named Wisconsin's Outstanding Pilot by the Civil Air Patrol (CAP).
On June 30, 1986 Dale participated in ceremonies in Hammondsport, NY as part of the 75th anniversary of US Naval Aviation. He flew his 1912 Curtiss Hydroplane reproduction off the waters of Keuka Lake. Nearly a year later on June 28, 1987 he again flew his aircraft during dedication ceremonies of the Curtiss Memorial again in Hammondsport, NY.
The Crites brothers activities in the aviation field are long and distinguished. Both men were members of the Waukesha Squadron of the CAP and have served in an executive capacity for various organizations associated with aviation. Before becoming manager of what was then the Waukesha County Airport, Dale served as President of the Wisconsin Aviation Association and as President of the Spring City Flying Service. Dean served two terms as President of the Waukesha Aviation Club. In recognition of Dean and Dale Crites' dedication and contributions to aviation the Waukesha County Board, in 1980, renamed the Waukesha County Airport, Crites Field.
The Waukesha Aviation Club has a museum located in the terminal of the Waukesha County Airport. The museum includes many artifacts of Dale and Dean Crites and other area aviators. The displays are extensive and rival that of any museum. Plan to visit the next time you are in the Waukesha area.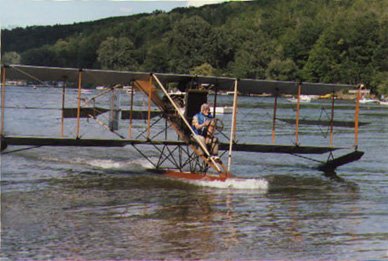 Dale Crites flying his Curtiss Hydroplane replica at Hammondsport, NY, 1987 - Waukesha Aviation Club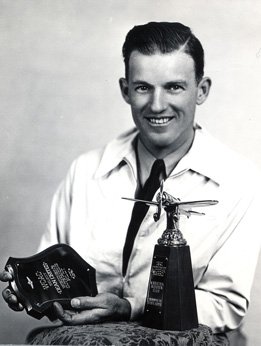 Dean Crites Outstanding Pilot Award 1941 - Waukesha Aviation Club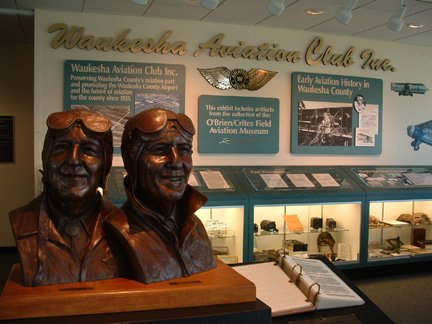 Crites Brothers bust - Rose Dorcey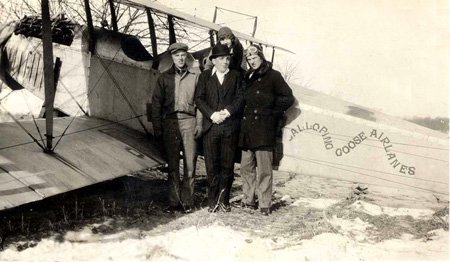 Dale (left) and Dean (right) with Ross and Gladys Pickett 1930 - Submitted