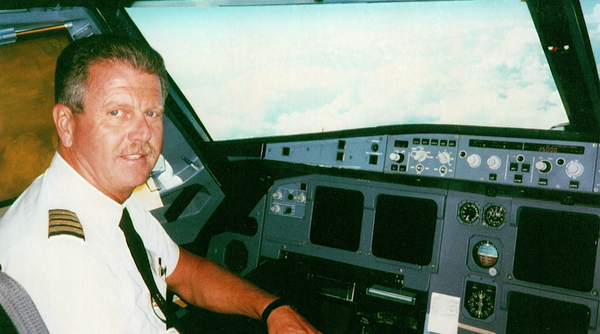 Captain Don Kiel - Submitted photo
Donald G. Kiel
Don Kiel graduated from Reedsville High School in 1963, having lettered in track and football all four years. On the night of his graduation party Don signed his enlistment papers with the United States Air Force, leaving two days later for basic training at Lackland Air Force Base in San Antonio, Texas. After six weeks of basic training Don attended numerous electrical schools for the next four months. Don spent the next 42 months based at F.E. Warren Air Force Base in Cheyenne, Wyoming. Don was assigned to the 90t h Minuteman Missile Squadron which had 200 Minuteman Missile sites throughout Wyoming, Nebraska and Colorado. Don was eventually promoted to Airman First Class as a Team Chief in charge of a five man team doing scheduled maintenance and trouble shooting at all 200 missile sites.
After finishing the year of college Don was 24 years old and wanted to continue his quest to a career in aviation. Don took another job crop dusting in Western Nebraska. Two months into that job he was hired as a co-pilot on Beech 18's flying airmail. After six months at that job Don was hired at Air Wisconsin. Don worked there 7 years, logging 6,500 hours in turbine aircraft flying Beech 99's, DeHavilland Otters and Swearingen Metroliners. Having a total time of 8,000 hours Don was hired at North Central Airlines in June of 1976. Throughout Don's 29 year career with them Don went thru three mergers; North Central Airlines in June of 1976, Republic Airlines in 1978 and eventually Northwest Airlines in 1986. Throughout his airline career he flew the Convair 580, Douglas DC9, -10, -30, -40, -50, Boeing 727, 757, Airbus A319, A320 and the Airbus A330-300. Don retired in March of 2005 as Senior Captain on the Airbus A330-300 flying to London, Paris, Frankfurt, Amsterdam and Rome. After retirement Don continued flying doing contract work for two companies in Manitowoc.
In spring of 2016 Don was awarded The FAA Wright Brothers "Master Pilot" Award for over 50 years of accident/incident free flying at an AOPA Safety Seminar at the Manitowoc County Airport.
For four years from 2012 - 2016 Don owned a beautiful Warbird that being a 1954 C45H Beech 18, affectionately named after me, "Lady Lynn". In the four years of ownership Don flew the Warbird a total of 142 hours to airshows through­ out Wisconsin including The EAA Round Engine Rodeo, an airshow at Punta Gorda Florida and Sun-n-Fun. Don also did many fly-bys, free of charge, for charitable organizations, public and veterans events. Don sold his Warbird the fall of 2016 and it is presently in its new home in Germany.