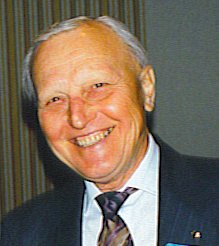 Dave Weiman
Earl Pingel
Born: March 12, 1925
Died: February 16, 2003
Inducted: 2002

Earl Pingel dedicated his life to aviation and education. A World War II Naval Aviator, flight instructor with commercial, instrument, and glider ratings, he logged over 3600 hours in multi-engine sea and land and single engine land aircraft. In 1959, he and two colleagues organized Sky Eye, Inc., and published Wisconsin's first photographic airport directory.
Pingel spent thirty years of his thirty-five year career as a public school teacher and coach in West Allis where he merged his vocations to organize the Wisconsin Aerospace Education Committee, initiate cutting-edge aerospace education workshops for teachers and became a charter board member of the Wisconsin Aviation Hall of Fame.
He has initiated, conducted classes in, advised or administered so many programs at the grade, junior high, high school, technical, university, military and professional levels that there has hardly been an aerospace education program operating in Wisconsin since the 1960s that has not been influenced by his work.
The achievements of the consummate educator have been recognized by the Air Force Association, the Civil Air Patrol, the Federal Aviation Administration and the Wisconsin Council of Aeronautics, which presented him with its first Wisconsin Aviation Education Award in 1977 and its Lifetime Achievement Award in 1991.
He carried his work into the 21st Century by creating Teacher Flight, an accredited program which enable teachers to use aerospace as a learning and motivational classroom tool.