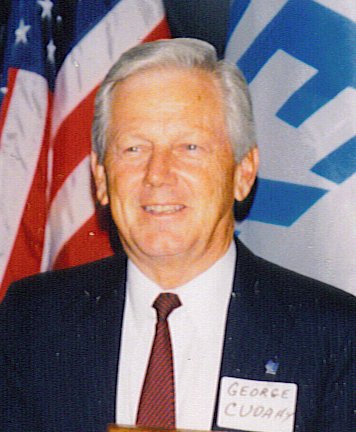 George Cudahy 1998 - Photo Jim Martin
George F. Cudahy
Born: February 17, 1934
Inducted: 1998

George Cudahy was born and raised in Kenosha, Wisconsin. Admitted to the United States Naval Academy, he graduated in 1957 and was commissioned a Second Lieutenant in the United States Air Force. After flight training, Cudahy was stationed in Europe and North Africa flying the North American F-86 "Saber" and Convair's F-102 "Delta Dagger".
Cudahy returned to the United States and earned a Master's Degree in Astronautical Engineering in 1965. He was next assigned to Fighter Flight Test in the Air Force Missile Development Center at Holloman Air Force Base, New Mexico, where he flew the Convair F-106 "Delta Dart", the North American F-100 "Super Sabre", and the Lockheed T-33 "Shooting Star".
In 1968, after checkout in the McDonald F-4 "Phantom II", he was stationed with the 555th Tactical Fighter Squadron at Udorn Air Base in Thailand and flew 186 combat missions during his tour in South East Asia.
In 1971 George became a Research Associate at Los Alamos Scientific Laboratories in New Mexico, and in 1972 returned to school to earn his Doctorate in Aerospace Science. Further assignments included Director of the Flight Control Division, Air Force Flight Dynamics Laboratory and Director of the Avionics Integration Division, Air Force Avionics Laboratory. In 1974 Cudahy was selected for promotion to Colonel and was a distinguished graduate of the Air War College in 1977.
Upon graduation Cudahy became Commander and Director of the Air Force Flight Dynamics Laboratory, one of the free world's largest aeronautical research and development facilities.
Colonel Cudahy retired from the Air Force in 1980 with the Legion of Merit, two Distinguished Flying Crosses, The Meritorious Service Medal, The Bronze Star Medal, 12 Air Medals, and numerous other decorations.
After leaving the Air Force he joined Fairchild Republic as Vice President of Engineering. Later, Cudahy served as Senior Vice President and General Manager of the company's Weapon System Division where he was responsible for A-10 "Thunderbolt II" production, engineering, research and development, and flight test. Other responsibilities included T-46 design, production of the last Space Shuttle vertical tail, and the Boeing 747 movable wing surfaces.
In 1984 Cudahy was named President of SAAB-Fairchild Aircraft. The Saab-Fairchild SF-340 regional commuter aircraft would earn its FAA and European certification that year.
George is presently President and CEO of American Eagle Brick Company, which he founded in 1990. He has continued his engineering efforts by designing and implementing computer controlled automation of the brick plant, completing the aerodynamic design of the Outrider UAV, patenting a screening apparatus, which is in production, among other activities. George continues to fly on a regular basis and in 2009 he was presented the "Wright Brothers Master Pilot Award" by the FAA in appreciation for his contributions to further the cause of aviation safety during his more than 50 years of flying.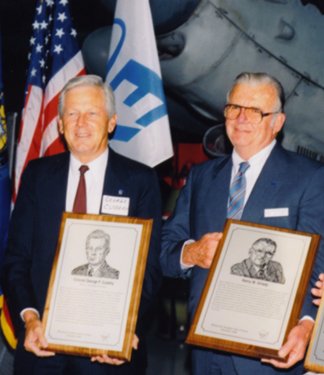 George Cudahy (left) and Harry Orlady during their 1998 induction - photo by Jim Martin