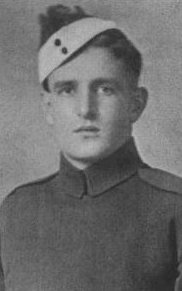 Giles Meisenheimer
Giles Meisenheimer
Born: May 27, 1895
Died: May 5, 1963
Inducted: 2009

Born in Milwaukee, Giles Edward Meisenheimer was a Marquette University student in the summer of 1916 when he was called up for active duty on the Mexican border. A member of Troop A, 1st Cavalry of the Wisconsin National Guard, he was a cavalryman that discovered what he really wanted to do was fly.
Unable to train as a pilot in the United States, Meisenheimer went to Canada and joined the Royal Canadian Flying Corps. He completed flight training, qualified as an instructor, and trained Canadian pilots at Camp Borden, Ontario until the end of World War I.
In April, 1919, Giles returned home to Milwaukee in the cockpit of an OX-5 powered Curtiss JN-4D Jenny. The aircraft had been purchased by George W. Browne, a successful car dealer. Browne had just been named western agent for the Curtiss Aeroplane Company. That made Browne Wisconsin's first airplane dealer. Meisenheimer, Brown's chief pilot, and soon became the most prominent aviator in Milwaukee.
When Milwaukee County established its first airport in the fall of 1919, they hired the Browne agency as operator and Browne put Giles Meisenheimer in charge. He thereby became the first manager working for the first fixed base operator at the first first publicly-funded full-service airport in Wisconsin.
He managed the Milwaukee County Airport until it was moved to its present location in 1926. Meisenheimer then left aviation, entered the family printing business, and died in 1963.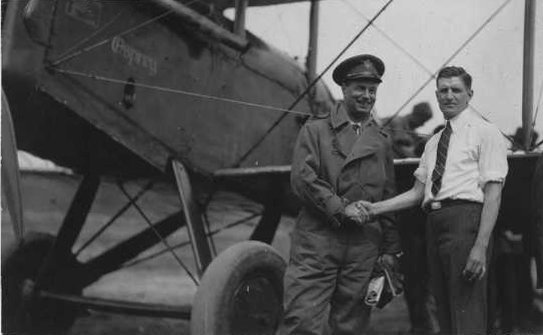 Giles Meisenheimer greets Mitchell