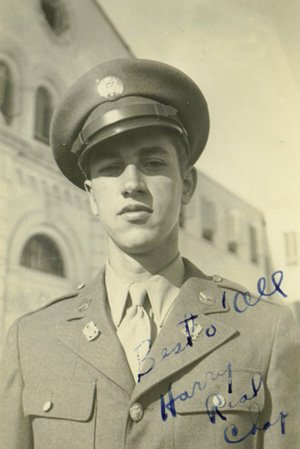 Harry R Chaplin, US Army, December 1942 - Photo courtesy Chaplin family
Harry Chaplin
Born: June 3, 1922
Died: February 21, 1988
Inducted: 1990

Husband, father, patriot, friend of aviation, doer, modest -- these are just some of the words that describe Harry R. Chaplin, Sr.
He enlisted in the Army Air Corps in 1942 and was trained as an aircraft mechanic. In 1943, while home on furlough, he married Carol Betts. They are the parents of five children. After the war, Harry moved the family to his hometown of Plymouth, Wisconsin. Shortly thereafter, on a grass runway located on the family farm, he started Chaplin Services, Inc.
Early struggles to develop an aviation business helped Harry to become a highly respected aviation businessman. He worked arduously to improve aviation business practices and devoted many uncounted hours toward the development of good, sensible and fair legislation for the industry.
Harry was instrumental in the development of five airports -- Chaplin Airport (1946), Waupaca Municipal (1949), Sheboygan County Memorial (1960), Manitowoc County (1969) and Baraboo - Dells (1970).
Harry was a member of the American Legion and had served on the National Security Commission and the Aerospace Committee. He was not just a "joiner" but a "doer". He belonged to numerous organizations and assumed an active role in all of them. Harry had the unique experience to serve some of our governors in aviation positions. In 1965, Governor Knowles appointed him to the state Aeronautics Commission. When that body disbanded he served as the first chairman on the Wisconsin Council of Aviation. He was reappointed to this board by Governors Lucy and Schreiber. Harry served a total of 18 years on these two groups.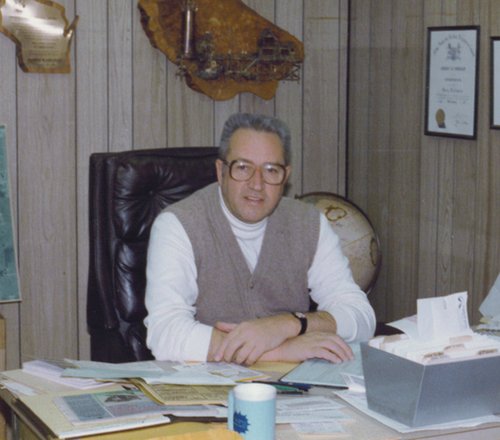 Harry at his Sheboygan County Airport office - Photo courtesy Chaplin family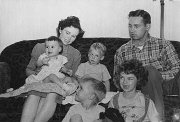 The Harry Chaplin Family 1951 - Photo courtesy Chaplin family