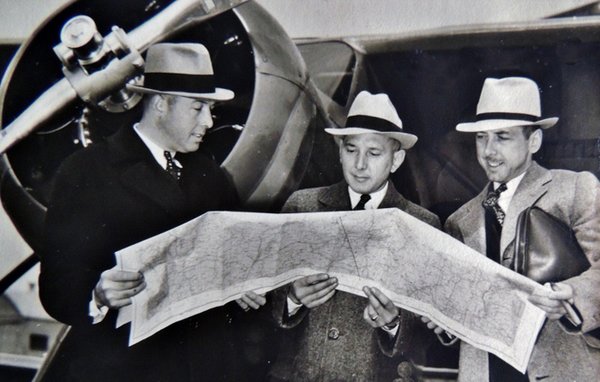 Knaup Brothers study an Aeronautical Chart - Submitted
James Knaup
Inducted: 2014

Inducted with his brothers Ray and Edward. The Knaup brothers were born and spent their early years on the north side of Milwaukee; Jim in 1899, Ed in 1901, Ray a few years later. In the late 1920s, the brothers purchased an Eaglerock, with its 90-hp motor and two-seat front cockpit.
The Knaups planned to start a maintenance shop and air charter service, offer rides, and develop Ray's newly acquired skill as an aerial photographer into a money making proposition. Their first year was rough, but they persisted. The Knaups incorporated Midwest Airways in September 1927. Jim was president, Ray vice-president, and Ed was secretary-treasurer.
Charles Lindbergh's flight to Paris in May of that year made him an international hero. It also made his airplane, the Ryan NYP, the most famous airplane in the world. Ryan quickly designed and built a commercial version dubbed the Brougham. Dealers were needed and the Knaups were at the head of the line in Wisconsin. They took delivery of their first Ryan Brougham in February 1928. As Ryan dealers the Knaups were also authorized Wright motor mechanics. They also sold and maintained the Eaglerocks and by the end of their first decade in operation contracted to distribute planes or products from Eastman Flying Boat, Parks PT Trainer, Lockheed, and Blackburn Engineering. They developed a decades-long relationship with Piper and benefitted as sales of these popular planes grew in the late 1930s and after World War II.
Ray's untimely death occurred in 1948, but brothers Jim and Ed continued in the aviation industry. In addition to aircraft sales and service, the Knaups offered flight training and air parcel service. As the 1940s turned into the '50s and '60s, the Knaups kept on doing what they had been doing since the 1920s, successfully delivering aviation products and services. They sold Midwest Airways and retired in the summer of 1966. Their working lives were long, their retirements short. Jim went west in December 1967, Ed in 1968.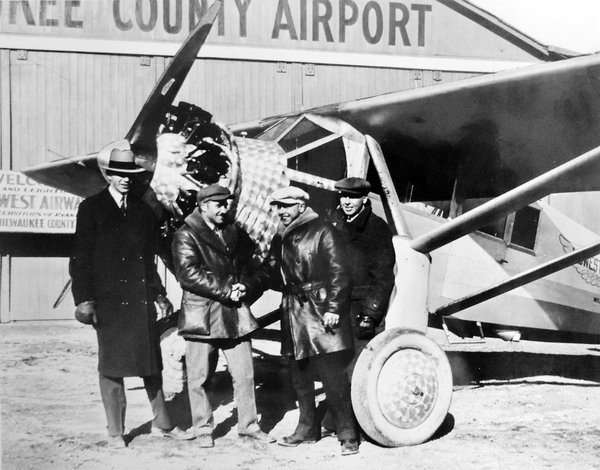 Knaup Bros in front of Ryan Brougham - Submitted