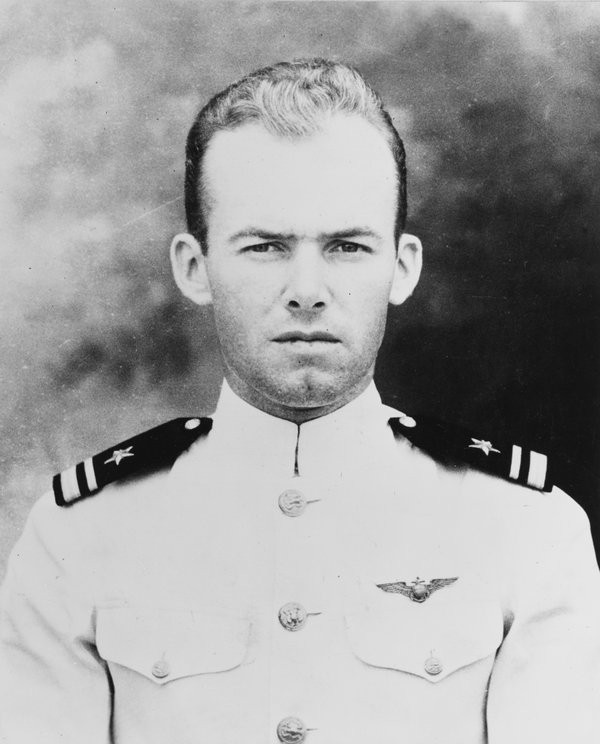 Lt JG Jams H. Flately - USN
James H. Flatley
Born: June 17, 1906
Died: July 9, 1958
Inducted: 2014

Admiral James Flatley was a World War II flying ace and Naval tactician who had a profound impact on Naval aviation. Born in Green Bay, Wisconsin, Flatley attended St. Norbert College before his appointment to the US Naval Academy, Annapolis, Maryland. A 1929 Naval Academy graduate who earned his wings in 1931, he became a Rear Admiral on December 1, 1957. Flatley served in several key roles in the U.S. Naval Carrier battles of WWII.
Flatley was an aerial gunnery expert and World War II squadron and air group commander. As Executive Officer of Fighter Squadron VF-42, he was one of the key participants in the Battle of the Coral Sea in May 1942, the first carrier vs. carrier duel. Flatley was awarded the Navy Cross for "extraordinary heroism and conspicuous courage" during the Battle of the Coral Sea.
After Coral Sea, he returned to the states to form VF-10, flying F4F Wildcats. Named the Grim Reapers, Flatley became Reaper Leader. Flatley was instrumental in developing tactics throughout naval aviation, and changed the perception that the F4F Wildcat fighter was inferior to the Japanese Mitsubishi A6M Zero. Following his tour as Commander, Air Group Five on USS Enterprise (CV-6), he helped introduce Grumman's F6F Hellcat to combat in August 1943.
Flatley's awards include a Navy Cross, Distinguished Service Medal, two Distinguished Flying Crosses for heroism, and a Bronze Star for action against Japanese forces in the Philippine Islands.
Flatley remained in the Navy after the war and became a key figure with the Navy's postwar air training program. After commanding the carrier USS Block Island (CVE-106) for a year, Flatley became involved with assessing Naval Aviation's safety record and ultimately helped develop the Naval Aviation Safety Center, today's Naval Safety Center.
After the war he was training director at the Naval Air Station Corpus Christi in Texas; commander of Naval Air Station Olathe, Kansas (which was renamed Flatley Field from 1962–1969); and commander of the Naval Station Norfolk in Norfolk, Virginia, followed by the carrier USS Lake Champlain (CV-39). He also held various staff positions. He retired from the Navy on June 2, 1958 and was promoted to Vice Admiral concurrent with his retirement. He died soon after at the US Naval Hospital, Bethesda, Maryland.