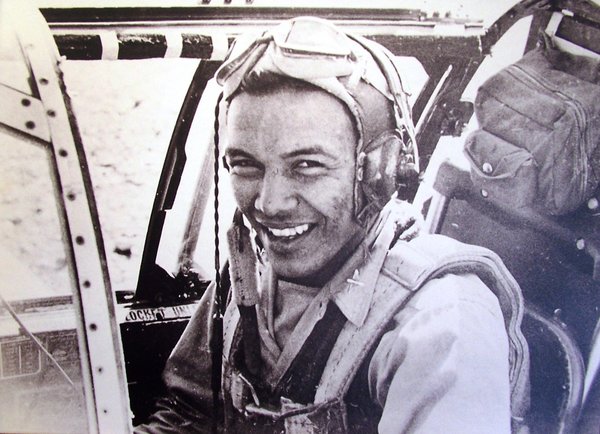 Joshua D. Sanford
Inducted: 2018

Joshua D. Sanford was born near Friendship, Wisconsin, the son of Herbert Sanford and Maude Decorah Sanford. A Native American, he was the grandson of Chief Decorah of the Winnebagos. His father, Herbert, a Seneca from Cayuga County, New York, was a graduate of Cornell University.
Sanford graduated from the Viroqua High School and attended the University of Wisconsin. When the onset of World War II occurred, he enlisted in the U.S. Army Air Corps. After graduating from Cadet's School and receiving his "Wings" and Lieutenant's commission, he was sent to the China-Burma-India Theatre of Operations where he became a combat pilot in the World War II campaign against the Japanese. His served with General Chenault's famous Flying Tigers, officially known as the Sixty-eighth Composite Wing. Captain Sanford served as operations officer, communications officer, and unit commanding officer.
Joshua was awarded two Distinguished Flying Crosses, two Air Medals, the Purple Heart, five campaign ribbons, and presidential and unit citations in recognition of his flying exploits over China, including 102 combat flights with the 75th Fighter Squadron, 23rd Fighter Group, 14th Air Force.
He was shot down or ditched twelve times. Twice wounded in action, he spent long periods in Veterans Hospitals. He retired from the service with the rank of Captain, the only Native American to serve with the famed Flying Tigers and is credited with 102 combat flights during service in China. Josh served from November 1940 to June 1945.
Following the war's end, Josh completed his education in electronics and became electronics engineer for Hallicrafters Corporation in Chicago. Later he returned to Hillsboro and established the Sanford Radio and Electronics Shop, which he operated for several years.
Joshua was united in marriage to Rosemary Bertz on June 21, 1948, who at that time was teaching school in Wonewoc. They and their two children, Maureen and Conant William Sanford resided in Hillsboro until 1956, when he accepted an offer to manage the Reedsburg Municipal Airport, moving to Reedsburg. He was for some time a factory representative of the Radio Corporation of America.
Joshua persevered in his duties as civil defense director for southwest Wisconsin until his untimely death at the age of 43.
In 1993 the City of Hillsboro named its airport Joshua Sanford Field in memory and honor of the famed pilot of World War II.