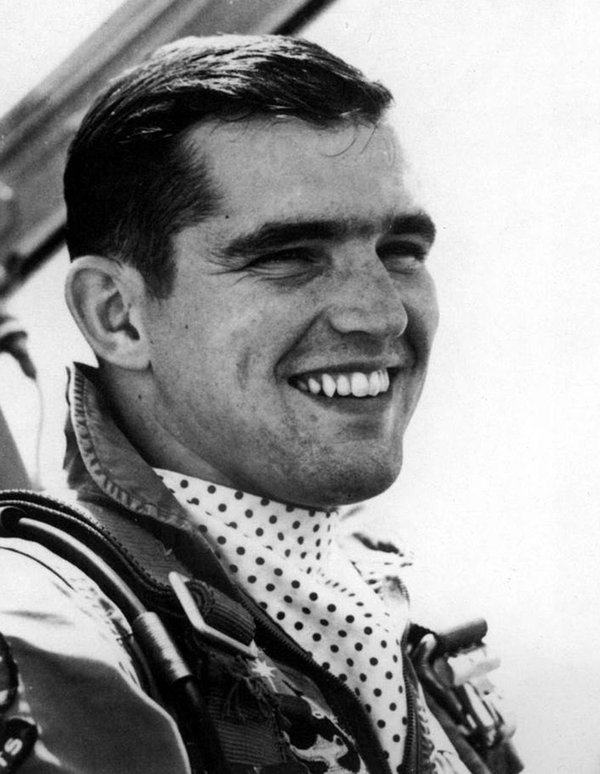 First Lieutenant Lance P. Sijan - USAF
Lance P. Sijan
Born: April 18, 1942
Died: January 22, 1968
Inducted: 2006

Born and raised in Bay View, along Milwaukee's south-side, Lance Sijan was an all-star athlete, student leader and scholar. He graduated from the US Air Force Academy in 1965 and went on to pilot flight training.
After training in the McDonnell Douglas F-4 "Phantom" and survival school, Sijan joined the 480th Tactical Fighter Squadron of the 366th Tactical Fighter Wing at Da Nang AFB, Vietnam in July 1967. By late October Sijan had completed 52 combat missions. All but one were as the 'GIB'. He had completed an evaluation flight for an "upgrade-in-theatre" on his 44th mission. He then spent a five-day R and R in Bangkok, Thailand.
Sijan's first flight, after returning from Bangkok, was scheduled for November 9, 1967. His pilot was squadron commander, Colonel John Armstrong. A West Point graduate, Armstrong was a demanding and professional pilot who had experienced his first combat flying the North American F-86 "Saber" in Korea . The mission included two F-4s, call signs AWOL-1 and AWOL-2 and had a scheduled takeoff of 2000. The mission was to attack a river crossing of the Ho Chi Minh trail called Ban Loboy Ford. Each F-4 carried 6 750-pound bombs.
During the attack, AWOL-1, Sijan's aircraft was lost. The impact was observed but no parachutes were seen. The rescue process was begun immediately. In total, over 140 aircraft would participate in the three-day long rescue attempt. Seven of these aircraft sustained heavy battle damage and one, a Douglas A-1E "Skyraider", or affectionately called Sandy, was lost.
Christmas morning, December 25, 1967, 46 days after he ejected from his F-4, Lance collapsed unconscious in an open area just three miles from where he had landed. Within hours, a passing North Vietnamese convoy discovered him and took him to a roadside camp. Rendering little medical aid, his captors replaced his tattered flight suit with the typical Vietnamese uniform resembling black pajamas. After regaining consciousness, Sijan was provided some food and water. After eating and resting for three days, Lance had regained some strength. He overpowered his guard and silently slipped back into the jungle.
In what seemed like minutes and less than a half-mile away, Lance heard alarm whistles and shouts. He was recaptured within hours. Sijan was taken by truck to the Bamboo Prison located near Vinh arriving on January 1, 1968.
After several days, Sijan and two other fliers were transferred to the infamous 'Hanoi Hilton', his injuries neglected, starved and tortured, Sijan refused to accede to his captors demands for information. On January 22, 1968, after ten days in the Hanoi prison, Lance Sijan died.
Sijan's family did not learn of his fate until the surviving prisoners returned in 1973. One of them, Major Robert Craner, nominated Sijan for the Congressional Medal of Honor. It is one of many civic and military honors posthumously bestowed on the young man. As Craner said, "He was what the military hopes it can produce in every man but rarely does."
General Tad Oelstrum (USAF, Ret) introduced Lance to the audience during his 2006 induction ceremony. Oelstrum's poignant presentation closed with why Lance Sijan was being inducted, "He is here not because of his short aviation career, it is because that short aviation career was the stage for an incredible demonstration of character - - a demonstration that has impacted hundreds of thousands of Americans and will live for ever."
We highly recommend the book, Into the Mouth of the Cat by Malcolm McConnell. The book's subtitle, The Story of Lance Sijan, Hero of Vietnam, explains our enthusiasm and begins the tale.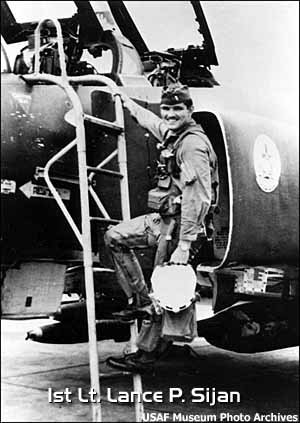 Lance Sijan - USAF