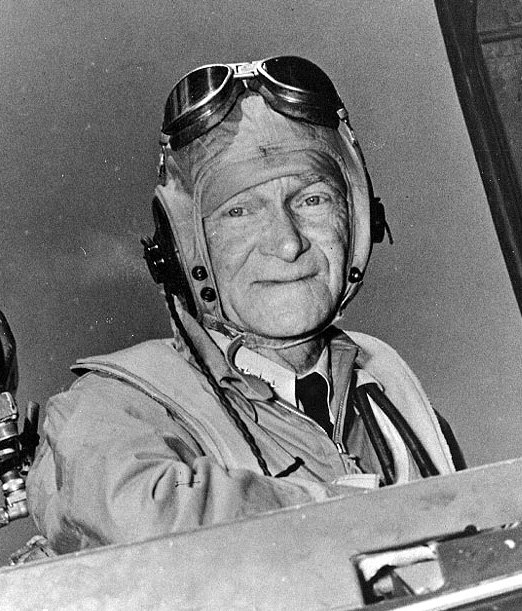 Marc Mitscher comes aboard - USN
Marc Andrew "Pete" Mitscher
Born: January 26, 1887
Died: February 3, 1947
Inducted: 2011

Born in Hillsboro, Wisconsin, in 1887, Marc Mitscher was raised in Oklahoma and Washington, D.C. Although West Point was his first choice, he accepted an appointment to the United States Naval Academy at Annapolis where he became known as "Oklahoma Pete."
He graduated from Annapolis in 1910 and went to sea, but was soon drawn to the Navy's brand new aviation service. After completing flight training at Pensacola Naval Air Station in 1916, Mitscher earned his wings and was designated Naval Aviator No. 33.
American entry into World War I brought him back to sea duty, but after the war he was assigned to pilot the NC-1, one of four amphibians in the Navy's attempt to fly across the Atlantic. NC-1 got no farther across than the Azores, but Mitscher was cited for his courage and ability as an aviator.
He remained in aviation, served on the aircraft tender Langley and, in 1927, was assigned to supervise the fitting out of the USS Saratoga, the Navy's first "fast" aircraft carrier. In command of her air department, Mitscher piloted the first airplane to land on the Saratoga's flight deck.
In 1941, Mitscher was given command of the USS Hornet, and began one of the most distinguished and storied combat careers in naval history. In April 1942, he took the Hornet to within flying range of Tokyo for Jimmy Doolittle's B-25 bombers.
Mitscher and the Hornet were at Midway a few months later for the decisive naval air battle of the Pacific war. He was then assigned command of all land, sea, and air forces for the Guadalcanal campaign.
Long an advocate for concentrating carrier forces into a powerful fighting unit, Mitscher saw his idea realized in TF-58, the "fast carrier task force." Under his command, TF-58 fought and won the battles of the Philippine Sea, Leyte Gulf, Iwo Jima, and Okinawa.
He earned lasting renown at the Philippine Sea for his decision to risk breaking the blackout and to "turn on the lights" so 200 airplanes could make a night landing on board  TF-58's carriers.
At war's end, President Truman offered to name Mitscher Chief of Naval Operations. He chose instead to stay at sea as Commander of the Atlantic.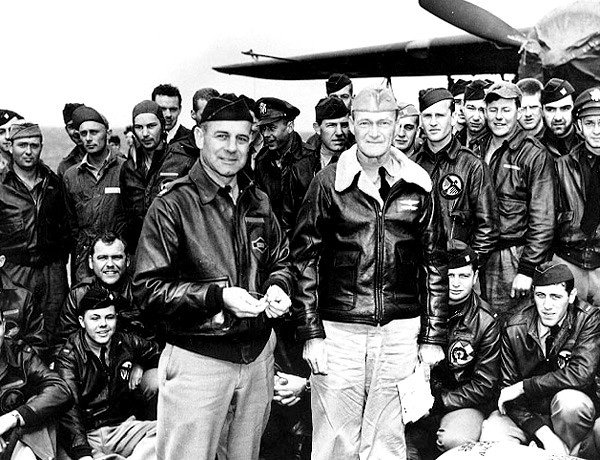 Marc Mitscher wishes Doolittle well - USN