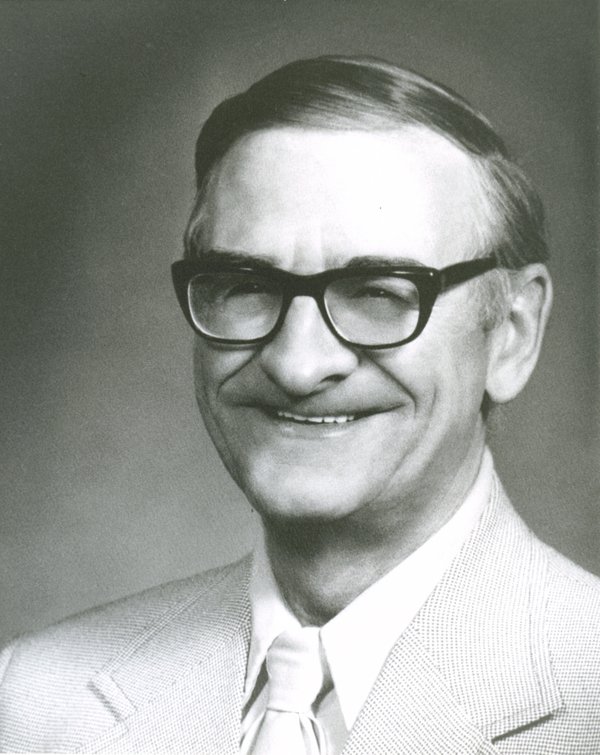 Nobel F. Less - Submitted
Nobel F. Lee
Born: November 26, 1916
Died: June 3, 1982
Inducted: 1997

Born: 11/26/1916
Died: 06/03/1982
Inducted: 10/25/1997
Noble Ferdinand Lee was born in Minocqua, Wisconsin, on November 26, 1916 to Famous Ferdinand Lee and Rosena Atsteena Ahlborn Lee. He grew up with six siblings on a farm; but Noble wasn't interested in becoming a farmer himself. At age 16, he moved into town and worked at Dubois Drug Store while attending high school. Noble enlisted in the Civilian Conservation Corps (CCC) in October of 1934, doing reforestation work through June,1935. CCC records note that Noble was "especially qualified as a clerk, typist, and electrician."
Sometime after Noble's work with the CCC, he went to Milwaukee and took a job at Nordberg's (an industrial company) while taking classes at Marquette University. Noble met Virginia Ihling while at Nordberg's and they married in 1945. During his time in Milwaukee, Noble began taking flying lessons at Curtiss-Wright Airport (now Lawrence J. Timmerman Airport (KMWC)) and at Anderson's Aviation at Milwaukee's Mitchell Field. He earned his private pilot certificate by 1940, and became involved with the Civil Air Patrol.
About 1945, Noble returned to northern Wisconsin on weekends. On the family farm south of Minocqua, he and his brothers, Loren and Robert, began construction of an airfield (now the site of Minocqua, Hazelhurst, Lake Tomahawk Elementary School). A few years later, Noble returned to Minocqua with his wife and family. Noble started operations at the field with an Aeronca and a Piper Cub, training pilots through the GI bill. The Class C commercial airport remained in operation until 1950 when Noble and his growing family moved it to the former Standard Oil Field in Arbor Vitae, Wisconsin. The Standard Oil Field had been turned over to the surrounding towns as a municipal airport. Noble became its manager, working without a salary for approximately 20 years. To support his family, he and Virginia owned and operated the fixed base operation, Lakeland Aviation Company, Inc., and owned Lakeland Rent A Car. Noble's electrical skills paid off well at the airport. He built all the radio equipment, some of which is still in use today.
Noble had a vision of seeing the airport expand and he was instrumental in making it a success. He attended airport commission meetings armed with a large ledger containing entries from those who flew into the airport and where they were staying. Noble was one of the first Wisconsin airport managers to track airport operations statistics to prove the economic value of an airport.
Noble's family grew to five children, Pam, Shelley, Kevin, Robin, and Denise. Virginia and the children were often at the airport from morning until night, keeping busy typing letters, gassing up and tying down airplanes, doing janitorial work, and whatever else needed to be done.
Lee was an active member of both his community and the aviation industry. Not just a member of nine aviation organizations, he served as president of two of them - the Wisconsin Airport Management Association (WAMA) and the Wisconsin Aviation Trades Association (WATA). A grassroots campaign to acknowledge Lee's contributions to the airport during his 32-years as manager resulted in changing the airport's name to the Noble F. Lee Memorial Airport.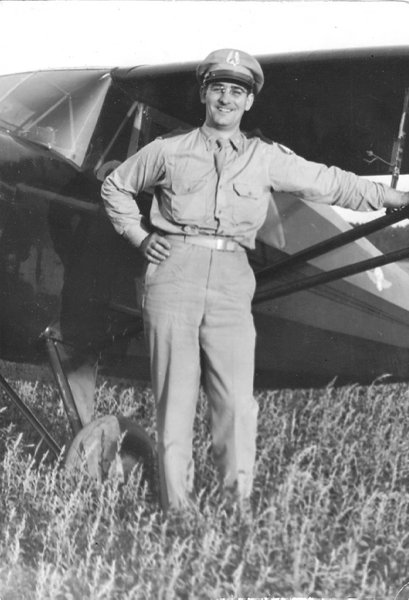 Nobel F. Lee with a Luscombe airplane