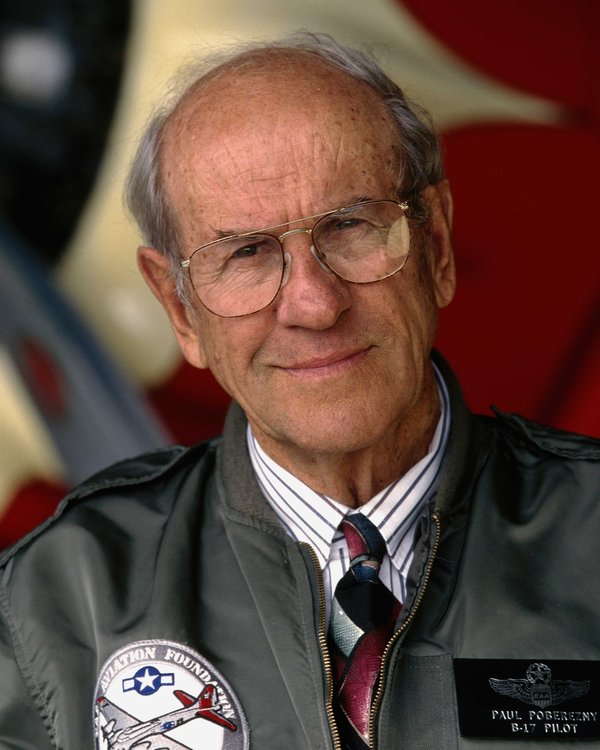 Paul Poberezny in B-17 jacket - EAA
Paul H. Poberezny
Born: September 14, 1921
Died: August 22, 2013
Inducted: 1986

Paul H. Poberezny is one of the most decorated men in the international aviation community, having received literally hundreds of trophies, awards and honors for his countless contributions to the world of flight. He is a 1999 inductee to the National Aviation Hall of Fame in Dayton, Ohio, America's place of honor for its most legendary aviators. He received the 2001 Award for Meritorious Service to Aviation by the National Business Aviation Association. Paul received the Wright Memorial Award Trophy in Washington DC, December 2002.
Paul is best known, however, as founder of the Experimental Aircraft Association (EAA), which has often been described as the world's most dynamic aviation organization. Each year, EAA's international Fly-In Convention, named "EAA AirVenture," draws more than 765,000 people and 12,000 airplanes to Oshkosh, Wisconsin, for one of the world's premier aviation events.
Paul organized the first Fly-In in 1953, the same year he founded EAA with a handful of other aviation enthusiasts in Milwaukee, Wisconsin. From the basement of his Hales Corners home, Paul and his wife, Audrey, nurtured the small group and watched it grow each year. Paul toured the U.S. and other nations on behalf of EAA, spreading a "grass roots" aviation message far and wide. He made frequent trips to Washington, D.C., to speak to Congressional leaders and federal aviation authorities, where he defended the rights of amateur aircraft builders and sport aviation enthusiasts while earning his livelihood as a military pilot and aircraft maintenance officer. Today, Paul is considered one of aviation's leading spokesmen here in the United States and around the world, representing the interests of more than 170,000 active EAA members at local, national and international events.
As a youngster, Paul built model airplanes from scratch. By the time he was 16, he had restored a battered Waco glider and taught himself how to fly. He has been in love with airplanes his entire life, although he has often remarked, "I've learned more about people through my association with aviation than I ever did about airplanes."
In all, Paul has logged more than 30,000 hours of flight time. He has piloted nearly 400 different types of aircraft, including more than 170 amateur-built airplanes. He has also designed and built more than 15 different airplanes and is currently working on a number of separate airplane projects in his private workshop.
Paul also served as Publisher/Editor of EAA's publications, including five monthly magazines and numerous technical manuals and research papers, for 34 years. A collection of his "Homebuilder's Corner," which he has written since 1953, would be considered a homebuilder's bible. The memoirs of his early years, titled Poberezny … The Story Begins, were published in 1996 and chronicles Paul's background and dedication to aviation.
The career of Paul Poberezny includes nearly 30 years of distinguished military service as a pilot, test pilot and a veteran of both World War II and the Korean Conflict. Prior to retiring with the rank of Lieutenant Colonel, Paul became the only man in the armed forces to attain all seven aviation wings the military had to offer. Paul was able to accomplish this feat without ever having the benefit of military aviation training, a truly remarkable achievement in itself.
Admired for his leadership and ability, Paul has served on the Board of Directors of many local, regional, national and international organizations. He is, without question, one of the foremost visionaries and innovators in the world of aviation today.
The article, Logging time with Paul Poberezny, in the June 2003 issue of the WAHF Flyer provides an update to Paul's very busy life. All past issues of WAHF Flyer are available in the Forward in Flight area, here https://www.wahf.org/forward-in-flight-all-issues/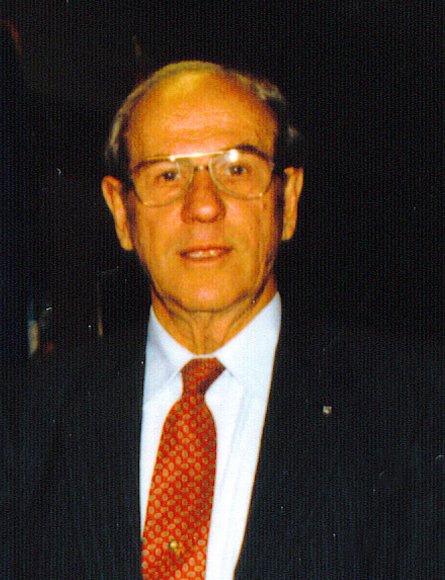 Paul Poberezny at WAHF Induction - EAA (1986)