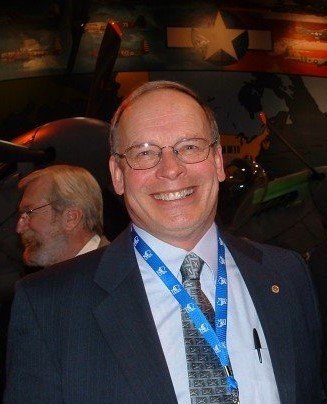 Peter Drahn
Peter Drahn
Active in aviation for 50 years, Peter Drahn was born in Oshkosh, Wisconsin. His calling to aviation arrived in his teen years, when the Soviet Union launched its Sputnik satellite. Drahn graduated in 1964 from the U.S. Military Academy at West Point. He entered the U.S. Air Force, completed pilot training, and spent the next three decades in military service.
Logging more than 3,000 hours as a command pilot, many of his 323 combat missions over Vietnam were as a forward air controller during the legendary Tet Offensive. His distinguished military career culminated with his promotion to Brigadier General and a final assignment as Chief of Staff, Headquarters, Wisconsin Air National Guard, in 1992.
His numerous military awards and decorations speak volumes of his dedication, knowledge, and personal sacrifice in the name of national defense and aviation. They include: Legion of Merit, Distinguished Flying Cross, Bronze Star, Meritorious Service Medal, Air Medal with three silver oak leaf clusters and one bronze oak leaf cluster, and more. He flew a wide range of aircraft, including the T-37, T-38, B-52, O-1, O-2, A-37, KC-135, and his personal favorite, the A-10. General Drahn retired in 1994 from the military after a distinguished 30 year career as an Air Force and Air National Guard pilot and commander.
Drahn's civilian career began with Northwest Airlines as a 727 pilot. After being furloughed, he transitioned into aviation management when he joined the Wisconsin Division of Aeronautics in 1972. Three years later he was hired as Deputy Airport Director at Dane County Regional Airport in Madison. He went on to become the Airport Director there and served in that role until his second retirement in 2002. He left a record of airport accomplishments that could fill several resumes.
In 1997, Drahn was elected and served as chairman of the American Association of Airport Executives. He served for 11 years as executive director of the Wisconsin Airport Management Association. He has also served as airport commissioner for Lakeland Airport–Noble F. Lee Memorial Field (KARV) in northern Wisconsin. Throughout his career Pete has been a shining example of service above self to others in the name of advancing aviation.