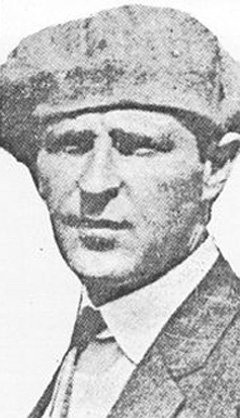 Rellis G Conant - WAHF photo
Rellis Conant
Born: June 9, 1894
Died: May 19, 1925
Inducted: 1902

Rellis Conant was one of six children born to a farm family in Plainfield, Wisconsin. He graduated from Westfield High School and completed class work at the state normal school in Stevens Point in January, 1914. Conant decided that he was not meant to be a country school teacher after teaching only one semester. He then entered the University of Wisconsin Law School in Madison.
Conant's studies ended in the summer of 1917 and he promptly volunteered for the air service. He had talked his way into pilot training school by stating that he already knew how to fly. He didn't, but he learned.
By October 1918, he was piloting a de Havilland DH-4 with the 168th Observation Squadron of the United States Air Service in France. During the final weeks of the war Conant shot down an enemy observation balloon and claimed credit for downing two enemy airplanes.
He returned home to Westfield and entered into his brother John's law practice. He succeeded his brother as Marquette County District Attorney for two terms. After flying, Rellis was not about to be a ground-bound lawyer. In the summer of 1919 he traveled to Chicago to buy an airplane and get back into the air.
In January, 1920 Rellis married his Westfield sweetheart Charlotte Hamilton in Miami, Florida. They didn't just get married -- they exchanged their vows while airborne, becoming one of the first couples to marry while aloft. A delay in the ceremony ensued when finding a minister that would leave the relative safety of the ground proved to be a challenge.
Conant, along with his brother John, set up a shop to refurbish war surplus airplanes for sale to other Wisconsin aviation pioneers. He barnstormed the state with a rousing flying circus act that included his brother-in-law Bruce Hamilton as a wing walker and an experienced parachute jumper by the name of D. Silvers.
Conant and friend and fellow pilot, Monford " Monty" Warshauer, worked together on a number of projects.
The two pilots made one entry in the aviation history books by making the first flight by a land based airplane across Lake Michigan on Tuesday, August 7, 1923. The Curtiss Canuck departed Milwaukee's Hamilton Flying Field at 4:45 AM. The aircraft turned eastward into a damp, cloudy sky arriving in Grand Haven, Michigan some 57 minutes later.
Conant was identified in a Wisconsin Rapids Daily Tribune article, dated Saturday, May 16, 1925, as an aviation expert. In addition to selling a refurbished Standard J-1 aircraft to Wisconsin Rapids businessman Wilbur E. Herschleb, he provided him with flight lessons.
The article went on to say that, according to Herschleb, the aircraft was regarded as the safest model built and that while the aircraft had not flown for some time, was now in excellent condition.
Herschleb planned on moving the aircraft to the Wisconsin Rapids airport once plans for a hangar were completed. He also noted that while the plane would only be used for pleasure purposes he would be open to commercial work later.
Three days later on Tuesday, May 19, 1925 the Wisconsin Rapids Daily Tribune headlined a tragic story. Wilbur Herschleb, local businessman and sports enthusiast, had been killed along with his flying instructor, Lieutenant Rellis Conant. The accident had occurred less than a half-mile east of the village of Westfield.
Herschleb had soloed on Saturday, May 16 in Westfield and later that day flew with Conant to Wisconsin Rapids. A second training flight to Wisconsin Rapids was made on Monday, May 18.
Before departing for Westfield the next morning Conant had given a short flight to Wisconsin Rapids attorney Hugh W. Goggins. Goggins later reported that at the time of his flight "... the aircraft seemed safe in every respect."
The ill-fated flight departed Wisconsin Rapids and after circling the city several times headed southeast and arrived over Westfield some time later. The aircraft then climbed to about 2000 feet of altitude.
According to eye witness accounts, " ... the plane glided along a short distance and then slid back on its tail and then dipped suddenly forward in what is known by flyers as a whip stall."
Another witness reported, "With the motor going full on ... there was never a waver." The aircraft struck the ground, killing both pilots.
Rellis Conant is buried in the Westfield East Cemetery, Westfield, Wisconsin. Ironically, his gravesite is about a half-mile from the site of the tragic crash that claimed his life.
Interested in learning more about Rellis Conant? We encourage you to read the article, "Flyboy from Westfield -- The Barnstorming Days of Rellis Conant, 1917 - 1925" by Michael J. Goc. The article was published in the Autumn 2001 issue of Wisconsin Magazine of History.
Another interesting story, Rellis Conant -- Hometown Pilot, can be found in "Places and Faces in Marquette County, Wisconsin, Volume 1" written by Ms. Fran Sprain.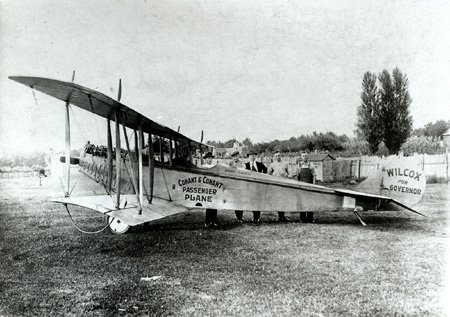 Campaigning for Wilcox for Governor - Summitted photo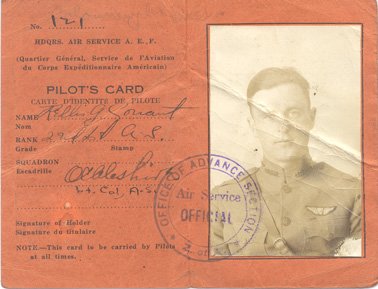 Conant's World War I pilot card (photo courtesy Marquette County - Historical Society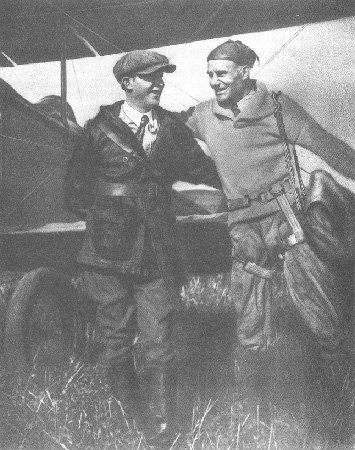 Rellis Conant (left) with friend and skydiver A. Silvers - WAHF photo