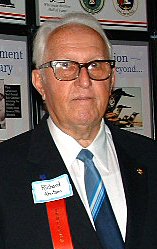 Dave Weiman
Richard W. Knutson
Born: August 26, 1924
Died: July 1, 2018
Inducted: 2002

Not long after he started his first aircraft restoration project in 1967, Richard W. "Dick" Knutson became the "go-to" guy for fellow restorers throughout Wisconsin and beyond. In the years since, Knutson has restored twenty-two airplanes, from a Piper J-3 and Tri-Pacer to a Stinson 108-1 and a 7AC Aeronca Champ. 
He began flying at Baraboo in 1952 but soon felt the need for an airport closer to his home near Lodi. With the help from a few friends and an obliging farm landowner, Knutson then started what became the Lodi Airport, recognized as one of the finest turf runway airports in Wisconsin.
A chiropractor who practiced until 1986, Knutson is best known for his expertise as an aircraft restorer, mentor and inspiration to other men and women who build, refurbish and restore the aircraft they fly.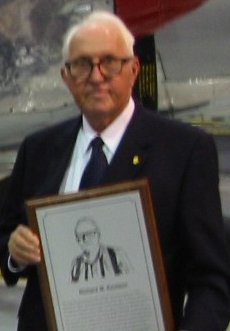 Induction Ceremony 2002 - Dave Weiman (2002)