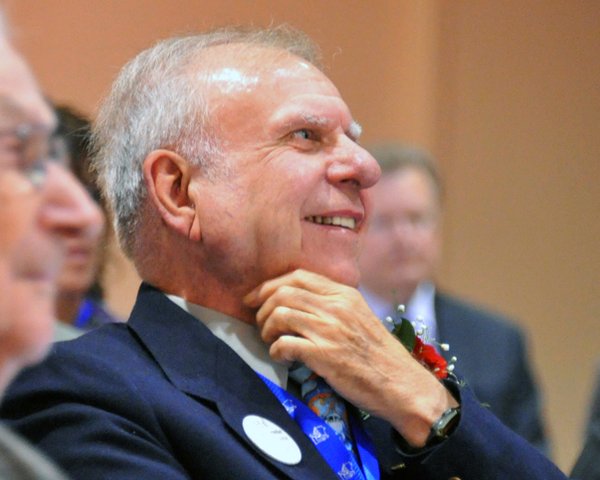 Ron Scott enjoys presentation at WAHF 2013 Induction Banquet - WAHF
Ron Scott
Born: February 12, 1933
Died: November 26, 2015
Inducted: 2013

As a teenager designing and building model airplanes in Tomah, Wisconsin, Ron Scott knew his future was in aviation. He joined the U.S. Air Force in 1952 and crewed on C-124 Douglas "Globemasters" ferrying nuclear weapons across the Atlantic to England and on Douglas C-54 "Skymasters" supplying isolated bases above the Arctic Circle, including the North Pole.
He left the Air Force in 1956, returned to Tomah for a year, and then moved to the Milwaukee area. There he took flight lessons at Capitol Drive Airport and bought a 1941 Taylorcraft. In 1959, he met EAA Founder Paul Poberezny. The meeting changed Scott's life.
Poberezny inspired Scott to design and build an airplane, but Scott's choice of materials was all his own. He started experimenting with fiberglass in 1964 and, five years later, made his first test flight in "Old Ironsides." The airplane has been recognized as the first homebuilt aircraft to use fiberglass structurally in a skin-stressed application, including all framing and landing gear. Old Ironsides made many flights, including eight excursions to the east and west coasts in the 1990s.
Scott devoted a half-century and more to the Experimental Aircraft Association. He served as the communications chairman during EAA AirVenture Oshkosh for 52 years, served on the EAA board of directors for eight years, served as chair of the board's nominating committee and coordinated the Spirit of St. Louis Commemorative Tour in 1977. He advocated for rule changes aiding homebuilders at the FAA in Washington and Aeronautics Bureau in Madison. Scott was an EAA technical counselor, spending decades as a volunteer advising homebuilders, inspecting their work, and helping with paperwork. As a flight advisor, he has monitored the first flights of fifteen homebuilders. Scott also served on the Sport Aviation Association's board of directors from 2003 - 2009.
No volunteer organization could survive without the generosity of members like Ron Scott. He has given to aviation much more than he ever expected to receive.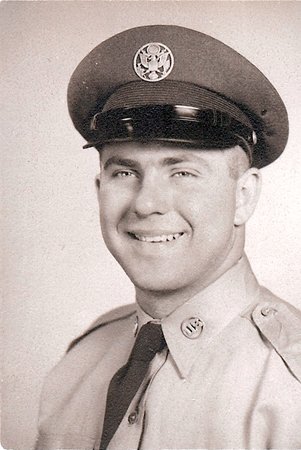 Airman Ron Scott, USAF - Submitted