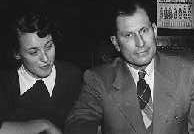 Marjorie (left) and Russ Van Galder - Submitted
Russell and Marjorie Van Galder
Inducted: 2000

Russell and Marjorie Van Galder were an aviation love story that helped promote flying to a skeptical public. Many of their former flight students went on to become commercial, military, and airline pilots around the world. Although the land was claimed and settled, the sky remained an open frontier dominated by the birds and a few aviators. Russ eagerly accepted the challenge to tame the blue and in the process became an aviation pioneer.
In 1934, Russ soloed after only four hours of instruction in a Curtis Pusher. He bought a MonoCoupe with a Velie engine. He passed his Limited Commercial Pilots License and then purchased a MonoCoach with a Wright J-5 engine to haul passengers. When the Monocoach needed recovering, he took it to the old barn on his father's farm. Russ, Marge, and Russ' sister Ethel cut, sewed, and doped until the plane was airworthy. In 1937, Russ married Marjorie Morris and together they made a real difference in civil aviation in southern Wisconsin's Rock County.
On weekends, Van Galder's Flying Circus went barnstorming across southern Wisconsin, northern Illinois, and eastern Iowa. Marge would travel in advance to these locations to obtain landing rights from the rural folks and sell them tickets. Van would put on the famous "old lady", "flying farmer", or "drunken pilot" routines, the latter of which caused the police on one occasion to arrest him upon his awkward landing. In the book, Forward in Flight (p.113), there is a great description of one of Van's famous aerial acts at a barnstorming event that he teamed with Stiles Whipple.
Van earned his Aircraft & Engine Mechanics License and later his Certified Flight Instructor's License. At this time, the children started coming, with eight in all, including two sets of twins.
In 1940, Russ and Marge made a significant life decision: Russ gave up his supervisor's position at General Motors and became the manager of South Beloit Airways. From the first day in his new position, Van said that he never went to work again; it wasn't work, it was his passion! Marge was an integral part of the new venture. She was an aviation ground school instructor from 1941 until 1953. Marge was one of the first women in the country to teach aviation. She taught at the Beloit Vocational and Adult School as well as similar schools in Madison, Elkhorn, and Delavan.
Marge's skills in the classroom helped promote Beloit Airways. Many of her students would find their way to the South Beloit Airport to fly with Russ. She also managed the books and did promotional work for the air shows. Marge was truly involved with all facets of their aviation business while still keeping watch over a brood of children. Marge soloed and got a taste of why Russ loved to fly.
During the World War II era, they trained many pilots who went right into military service. A tremendous assortment of military aircraft utilized the South Beloit Airport. This array included P-40s, P-47s, F4Us, F6Fs, C-47s, and a lone B-25. The B-25 medium range bomber was the highlight of such visits. It flew in during the winter of 1944, when its intended destination was experiencing a savage snowstorm. On another occasion, a C-47 doing some touch and goes brought out a huge stream of cars to witness the event. When the military aircraft parked overnight, Van had to find people to keep watch over them.
After World War II, with the G.I. Bill, the "heyday" of the flying business began. More than 100 returning vets went to the airport to learn how to fly. Most of them sought occupations tied to aviation such as crop dusting, flight instructing, and the airlines. Russ put together a fleet of fourteen aircraft to train these aviators and hired additional instructors. He was able to offer courses which included Private, Commercial, Instructor Rating, Instrument Rating, Multi-Engine, and Seaplane Rating. Many of these students practically lived at the airport and flew any plane they could get their hands on.
In October of 1947, Russ was forced to parachute from a States B-3 Kinner-powered aircraft that he was test flying for a flying club. He was doing a slow roll when the wing buckled. Van hit the silk and was immediately inducted into the International Caterpillar Club. This membership is reserved only for those whose lives were spared by a parachute from a disabled aircraft.
What had started out as a "mom and pop" operation was now a family affair with the children becoming more involved with the airport. Kent was line boy, gopher, and did anything and everything. Lynne was the office girl, helping out where necessary. Clark helped with the field maintenance. There were no runway lights at the South Beloit Airport. When Russ flew in late from a distant location, he would buzz the family home in Beloit and wake up Marge and the kids to go out to the airport to light the kerosene flare pots. All the children knew the routine and reacted swiftly in case Dad was running low on fuel.
During the Korean War, Russ was the chief observer for the Beloit Ground Observer Corps. The Defense Department needed sky watchers to supplement the U.S. radar warning system. The Van Galder children spent many hours with Russian aircraft silhouette charts in their hands on top of Beloit's tallest buildings looking for any intruders. Kent would later go on to fly for Beloit Corporation and continues working on various aircraft at the Southern Wisconsin Regional Airport located south of Janesville.
Over the span of 18 years, South Beloit Airways was a major contributor to civil and military aviation in southern Wisconsin and northern Illinois. Van soloed hundreds of pilots, licensed hundreds of planes, and made innumerable trips, safely delivering both passengers and cargo. The South Beloit Airport closed in 1957 as a result of an adjacent gravel pit operation that was expanding. It was a tremendous loss to the Stateline area.
Russ continued his involvement in aviation by working as chief pilot for Fred Machesney, the man who had taught him to fly. He flew for Machesney out of Rockford, Illinois for several years. In 1967, Russ joined his flying buddy, Art Hodge, of Hodge Aero, at the Rock County Airport as its chief flight instructor. He would give instruction, flight tests to aspiring pilots, inspect and license planes, fly charters, and do power line patrols. Russ retired in 1975. In more than 45 years of flying, Russ logged more than 32,000 hours of flight time. That would be almost four total years in the sky! More than 18,000 of those hours were flight instruction given.
Marge was a pioneer in breaking ground for women in many fields, including aviation. She was the public relations consultant for the Beloit State Bank, personnel director for Chester's Department Store, executive director of the Beloit Downtown Council, and marketing director of the Beloit Mall. Marge retired in 1982 to spend more time with the grandkids, traveling, and writing. She was an insightful author who wrote two books: The first book, Taming the Blue, is the story of Russ's career, filled with interesting stories and anecdotes. If you are a pilot or love aviation, this is a must read. Her second book, Growing up in Monterey, is about her growing up in Janesville, Wisconsin during the onset of World War I and the major Spanish flu epidemic. Later on, Marge would teach creative writing classes at Beloit College and UW-Rock County. Four of her eight children would go on to teach in Wisconsin's public schools.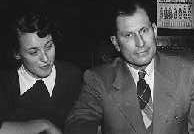 Marjorie (left) and Russ Van Galder - Submitted