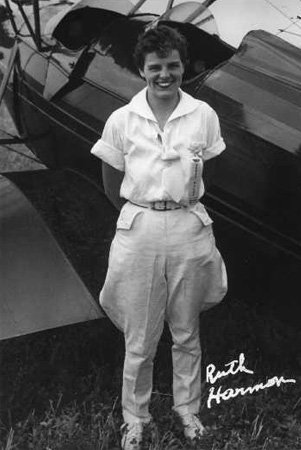 Ruth Harman 1930s air show performer - Photo Waukesha Aviation Club
Ruth Harman Walravan
Born: March 13, 1913
Died: June 4, 1993
Inducted: 1999

A single airplane ride while she was still in high school in the early 1930s was all it took to hook Ruth Harman on aviation. She sold her old toys, clothes and even her bicycle to get the money to purchase a membership in the glider club at the Kenosha, Wisconsin airport.
In an interview from the September 15, 1931 issue of Wisconsin News, 18 year old Harman described her love of flying. "I'm crazy about it," she said. "I've dreamed about it for three years. Last year I went to night school and took a course in aviation ... I learned about motors - you should have seen me then. I came home ... just covered in grease. But I was happy. I was the only girl in the class and I guess that most of the fellas thought I was a little crazy, but I knew what I wanted."
After high school she went to work to pay for flying lessons and earned her pilot's certificate March 16, 1932.
She graduated from an Aeronca C-3 to a Waco F, mastered aerobatics and as the "Girl Flyer" performed at air shows throughout the state.
By 1936 she had earned the commercial and flight instructor certificates. "I wanted to teach others to fly because I loved it so much myself," she said.
She got her chance to teach others to fly in 1940 when she became chief instructor in the Civilian Pilot Training program at Kenosha. She went on to train hundreds of Navy flight cadets during World War II. Harman was one of fifty female CPT instructors in the country and the only one in Wisconsin. She was also the first female airport manager in Wisconsin. She remained at the Kenosha Airport until 1950 when she and her family moved to California.
At a time when women were the exception in aviation, Ruth Harman had an exceptional career.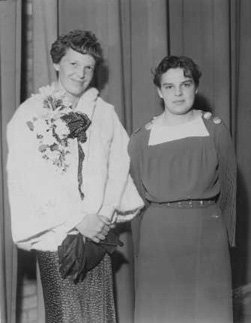 A young Ruth Harman meets Amelia Earhart - WAHF photo