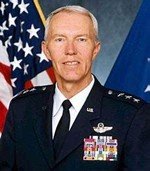 LtGen Tad Oelstrom - Submitted Photo
Tad J. Olestrom
LtGen Tad Oelstrom was born in Milwaukee and attended high school in Waukesha, Wisconsin. Upon graduating in 1961, he was appointed to the Air Force Academy where he obtained a Bachelor of Science degree in Engineering. Upon graduation, he was commissioned a 2nd Lieutenant in the U.S. Air Force in 1965. He was then assigned to pilot training at Vance AFB, Oklahoma, where he excelled at flying the T-37 Tweet and the T-38 Talon. Upon graduation, he was assigned to the F-4 Phantom, and began his 30+ years of service as a career fighter pilot.
During his career, he flew 20 types of aircraft which included the Fairchild-Republic A-10 "Thunderbolt ll", the McDonnell Douglas F-15 "Eagle" , the General Dynamics F-16 "Fighting Falcon" and the British Hawker Hunter. He served in Southeast Asia, completing 220 combat missions and ended his Air Force flying career with over 4400 hours.
Awards and decorations include the Distinguished Service Medal, the Defense Superior Service Medal, the Legion of Merit, two Distinguished Flying Crosses with oak leaf cluster, Meritorious Service Medal with 4 oak leaf clusters, and the Air Medal with 15 oak leaf clusters.
Over his career of 39 years, Tad was promoted through the ranks, serving as Squadron and Wing Commanders, and Vice Commander of 9th Air Force, ending his flight assignments while commanding the 3rd Air Force.
From 1997 to 2000 he served as the 14th Superintendent of the U.S. Air Force Academy. He retired in 2000 as a U.S. Air Force Lieutenant General.