Pilot, Aircraft Mechanic, Aircraft Restorer - Submitted
Thomas "Tom" Hegy
Inducted: 2012

Born into a family of aviators in Watertown, Wisconsin, in 1944, and raised in Hartford, Tom Hegy took to the air at an early age. He was fourteen years old when he decided he wanted to be a crop duster. At age eighteen, he purchased a J-3 Piper Cub and flew it to Arizona, where he completed his training for his commercial certificate.
Back in Wisconsin in 1966 he served for six years in the Air National Guard, and worked as a mechanic maintaining crop dusting aircraft. He also went to work over the farm fields and soon mastered the art of applying pesticides and fertilizers in a safe and efficient manner. In 1971, he signed on with Reabe Flying Services and remained with the company for more than forty years. He started spraying in a Stearman 220 and by 2012, was at the controls of a 502B Air Tractor, with about a dozen other crop dusting models in between.
Weather allowing, a crop duster flies every day of the growing season. It is an early morning job, since spraying is best done in low or no wind conditions. A pilot rises pre-dawn, is in the air by sunrise, and often completes a full day's schedule before other folks have eaten lunch. If the wind holds off through the afternoon, he or she keeps flying. If it blows hard after lunch but abates by dinner time, he's back in the air until twilight. The hours pile up. Tom has logged more than 40,000 hours of flight time—most of it as part of a day's work—many days' work.
When not flying, Hegy restored and rebuilt airplanes, improving performance and comfort whenever he could, including an HE-12, PA-12 Super Cruiser, and Pitts Special.
He has been a participant in the EAA Young Eagles program, and often donates flight time for good causes in his community.  
In 2011, Tom piloted the EAA's 1911 Bleriot aircraft, built to mark the centennial of air mail. The EAA wanted a pilot with experience in a wide variety of airplanes and knew Tom Hegy was the right man.
After piloting approximately 300 different airplanes over nearly five decades, flying an airplane designed a century ago was like "another day at the office" for a working pilot whose life's passion is to fly.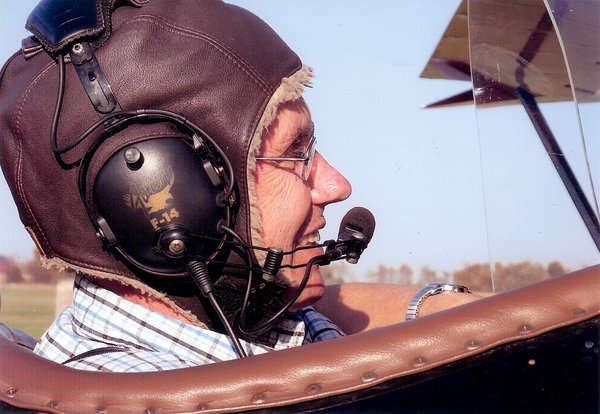 Tom Hegy at the controls - Submitted