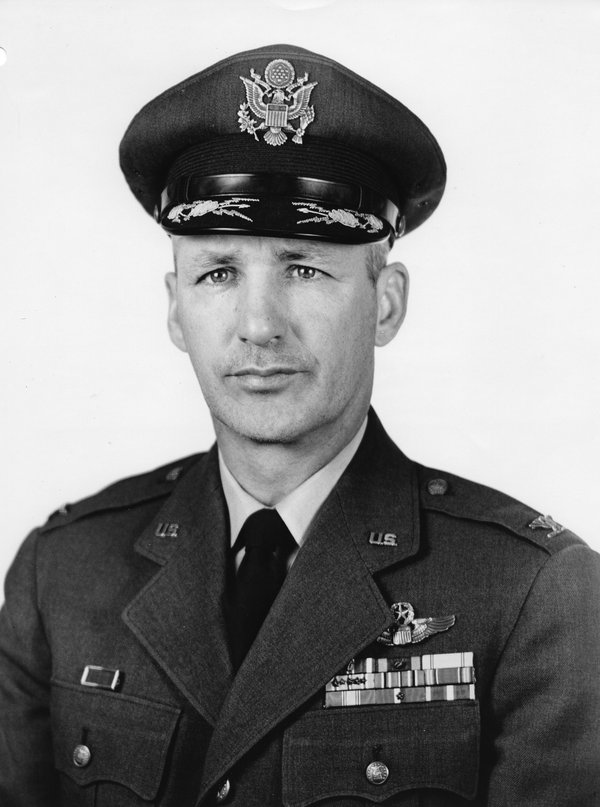 Major General Woodrow P. Swancutt - USAF photo
Woodrow P. Swancutt
Inducted: 2022

Born in Edgar, WI, in 1915 Maj Gen Swancutt graduated from Central High School, La Crosse, WI, in 1933, and later attended the University of Wisconsin at Madison where he was National Intercollegiate Middleweight Boxing Champion in 1939 and 1940. Entering military service in November 1940 as an aviation cadet, he completed flight training at Kell Field, TX in July 1941, and was commissioned a second lieutenant.
During World War ll the general served as a B-29 Superfortress pilot in the 40th Bombardment Group. He flew 49 combat missions in China- -Burma-India and Pacific areas and on June 15, 1944 lead the first B-29 daylight attack on Japan and their steel mills in Yawata, the first attack on Japan since the Doolittle raids in April 1942.
In July 1946, Major Swancutt participated in Operations Crossroads as the pilot of a B-29 "Dave's Dream", to drop an atomic bomb at Bikini Atoll, the first nuclear weapon test since Trinity in July 1945, and the first detonation of nuclear devices since the atomic bombing of Nagasaki on August 9, 1945.
Following Operations Crossroad, he was squadron commander of the 509th Bombardment Group, Walker AFB, NM. In September 1949 was assigned to Headquarters Eighth Air Force, at Fort Worth, TX, serving as chief of the Operations Division. From 1952 to 1954 General Swancutt served as director of operations of the Seventh Air Division in England and was next assigned to the 42d Bombardment Wing at Loring AFB, MA, and later became commander of that wing.
In March 1957 the general transferred to Lockbourne AFB, OH, as commander of the 91st Strategic Reconnaissance Wing, which later became the 376th Bombardment Wing. General Swancutt transferred to Strategic Air Command Headquarters in April 1959 as director of safety and in June 1962 General Swancutt became commander, 822d Air Division, Turner AFB, GA., and served in this capacity until January 1965 he was reassigned to Headquarters U.S. Air Force as deputy director of operations for forces. In August 1966 he became director of operations.
In July 1967 he became vice commander of the Second Air Force, with headquarters at Barksdale AFB, LA. Major General Swancutt`'s military retirement was effective August 1, 1968. The general was a command pilot with more than 8,000 flying hours. His decorations include the Legion of Merit with two oak leaf clusters the Distinguished Flying Cross with oak leaf cluster, Air Medal with oak leaf cluster and the Air Force Commendation Medal.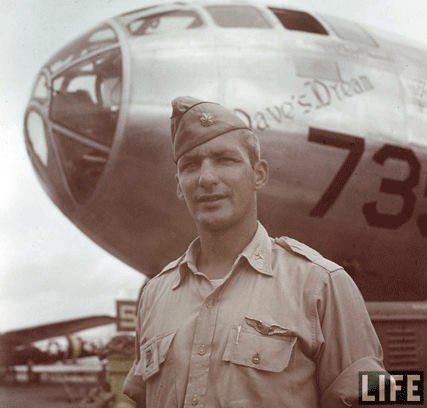 Truax Field, Madison, WI Maj Swancutt in front of his B-29 Superfortress "Dave's Dream" (1946)